DHS

boys look to bounce back on Senior Night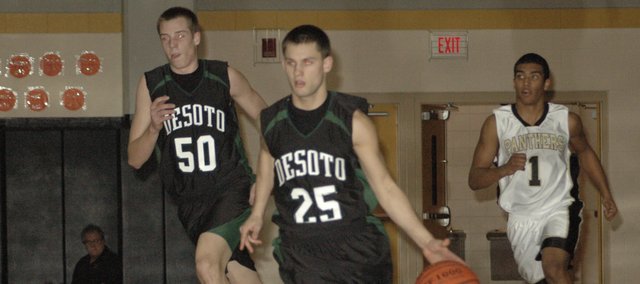 The De Soto boys basketball team is gearing up for a strong finish, and if it hopes to do that, its five seniors will lead it.
Seniors Brandan Philbrook, Dylan Burford, Daniel Peterson, Paul Stallbaumer and Nick Umholtz will play their final home game on Senior Night against Louisburg Friday at De Soto.
"We've got five guys who've been in the program for four years," coach Jim Bonar said. "They are warriors. They know what's expected out of them, and they lead."
Bonar is counting on his seniors to step up like they have throughout their careers as the team tries to rebound from a blowout loss to powerhouse Gardner last week. The game in may ways was a 32-minute highlight reel.
With Gardner up 16 midway through the third quarter, Bubba Starling took off from the low block, caught an errant alley-oop pass a few feet behind his head, spun and slammed home a reverse dunk.
And with that play, Gardner's Superman seemingly ended any shot of a Wildcat comeback, and the Trailblazers went on to beat De Soto 92-60 Friday at Gardner.
The only team to knock off Ottawa in the Frontier League, the Trailblazers entered Friday's game favored against the visiting Wildcats. But a blow-for-blow first quarter that saw Mason Wedel attack the basket put a Gardner victory in doubt early.
With De Soto down four, Wedel split two Trailblazer defenders with a behind-the-back dribble and downed a finger roll to cut the Gardner advantage to two at the end of the first quarter.
Gardner started to open the game up in the second quarter thanks to a 5-0 run. But Philbrook would retaliate, drilling a three-pointer with a hand in his face that cut the lead to 20-16.
Gardner led at halftime by 10, but De Soto went to the locker room knowing it was still very much in the game.
But in the third quarter, Starling's thunderous slam, coupled with seven Gardner threes put the game out of reach, and the fourth quarter turned into a formality.
The final quarter began with Gardner up 67-44, and more offensive explosions from the Trailblazers — led to a 34-point lead. And by game's end, Starling had 25 points, 11 rebounds and seven blocks.
Philbrook led the Wildcats with 17 points. Aaron Nutterfield and Wedel added 10 and eight, respectively.
Bonar said the Wildcats (9-10) might focus more on themselves than scout the opponent.
"We're just trying to tidy up our loose ends," Bonar said. "We've just got to do our own thing and get Mason back involved. We've got to play to our strengths."
De Soto will begin sub-state play next week. The No. 6 seed Wildcats will play at 7 p.m. Tuesday at No. 3 seed St. James.
The remaining games of the sub-state tournament will be played at Basehor-Linwood.