County could mandate curbside recycling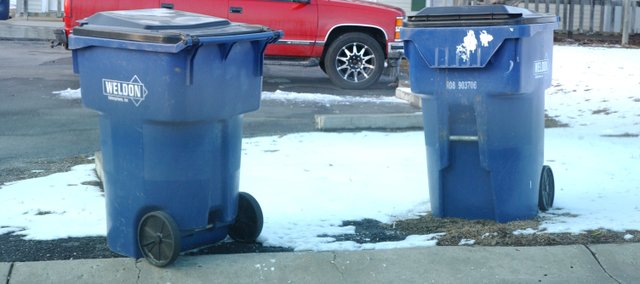 Curbside recycling could be mandated in De Soto next year as part of new countywide solid-waste management regulations.
Betsy Betros, director of the pollution control division of Johnson County Environmental, said the county was updating its solid-waste management plan first adopted in 2007 and approved by the Kansas Department of Health and Environment. State law requires counties adopt solid waste management plans that provide residents with a place to dispose of trash, she said.
The update would license the 15 trash haulers who serve the county, Betros said. It would also require all haulers:
• Provide residential curbside recycling as part of their base service starting Jan. 1, 2011.
• Charge customers on a volume-based rate with fees increasing with more trash generated. The fee structures are to be in place Jan. 1, 2012.
• No longer pickup for landfill disposal limbs, grass clippings and other yard waste starting Jan. 1, 2011.
"The big thing driving this is the Johnson County Landfill is rapidly filling up and is scheduled to close in 2027," Betros said. "That spurred us on to how manage solid waste with a big landfill going away.
"We just need to move into the 21st century about what we put in the trash to be taken to the landfill. Forty-two percent of what is taken to the landfill is paper and paper products."
Randy Weldon of Honey Creek Disposal Service told the council last week the service currently complied with all the future county regulations with the exception of curbside recycling.
The concern about the Johnson County Landfill might be legitimate, but De Soto City Council members have pointed out it has nothing to do with De Soto. The city's contracted trash hauler, Honey Creek Industries, takes De Soto's trash to a landfill in Jefferson County.
Councilman Mike Drennon said last Thursday the county shouldn't get in the city's business by passing on a rate increase on to city trash customers by demanding curbside recycling.
De Soto City Attorney Patrick Reavey said he did about two hours of research on the state statute requiring county or regional management plans. It appeared a subsequent Kansas attorney general ruling might allow the De Soto City Council to exempt itself for the county plan if its adopted its own solid waste management plan.
But Reavey noted that ruling concerned exempting cities from only using a county landfill and said would want to more research into the boarder question of a city exempting itself from a county plan.
The question of excluding county trash haulers using out-of-county landfills from the curbside recycling edict did come up as the proposed update was being considered, Betros said. But it was decided an exemption might give out-of-county haulers a competitive advantage, Betros said.
Competitive balance is not a concern in De Soto Honey Creek, which took over the contract of Weldon Enterprises, has an exclusive contract with the city to provide trash service and has for 15 years.
The De Soto City Council explored the cost of curbside recycling in October 2007 but rejected the option because of the cost for city customers. At that time, the weekly service would have added another $3 a month to the bills of De Soto customers.
But De Soto City Administrator Pat Guilfoyle said there differences in the county's proposal and what was suggested 2 1/2 years ago that could affect the cost. The city looked at a weekly curbside service while the county is proposing a biweekly service. In addition, the proposed county recycling would be unlimited while service proposed in 2007 would not have required the recycling of certain types of plastics or glass, he said.
Betros said she wasn't aware of the council's objections, adding the county has had "good buy in" from the cities on the update. A representative from Johnson County Environmental will give a March 4 presentation to the De Soto City Council on the updated solid waste plan, she said.
The Johnson County Legal Department was not considering the new regulations, Betros said. Once that review is finished, the update will be published and there will be a 30-day for residents to comment to the county commission, she said.
County commissioners will consider the update sometime this spring, but Betros said the date wasn't yet set.
"We were hoping for April, but it will more likely be May," she said
More like this story