All the way to state
Cannon, Parr qualify for Class 4A State Wrestling Tournament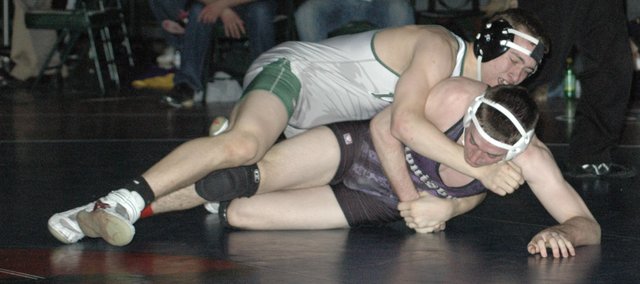 For the first time in four years, the De Soto Wildcats will be represented at the Class 4A State Wrestling Tournament.
Sophomore Cole Cannon and junior Donny Parr earned a spot in the state tournament by placing in the top four Saturday at the regional tournament in De Soto. Cannon won the regional championship at 160-pounds, and Parr was runner up at 189. De Soto also finished in 11th, and did so despite being open in four weight classes.
"I think the whole team wrestled pretty well," coach Shannon Sawner said.
Cannon pinned Paola's Tyler Henness in the finals and took home the regional first-place medal. Cannon also qualified for state last year as a freshman at St. James.
"It was kind of nerve-racking going down there as a freshman," Cannon said. "But since I've already been there and seen how things go, it should be different this year. It's the best of the best when you go down there. And you've just got to give it your all."
Parr, who won the league title the previous week, lost his regional finals match to Osawatomie's Zack Grimes. Parr will be a No. 2 seed in his first trip to the state tournament.
"I'm just really excited," Parr said. "It's a goal I've been working towards for a long time. And now that I'm finally there, I'm excited and I'm going to go 100 percent."
Parr's journey to the state tournament began last year. As soon as the season ended, he and several teammates wrestled during the offseason to get better.
"I did a lot of stuff over the summer, and the coaches have been pushing us really hard this year," Parr said. "And this is a culmination of all that work."
While Cannon and Parr qualified for the state tournament, three other Wildcat wrestlers nearly joined them.
Brandon Vukas (171) and Zack Atchison (145) lost their consolation semifinals matches, and heavyweight Shane Schramm was just two wins away from qualifying for the state tourney.
Vukas lost in heartbreaking fashion to Baldwin's Chris Schrapel 7-6. It was a back-and-forth match where Vukas and Schrapel both swapped leads in the final minute of the match.
"I think all three of them got a ton better this year," Sawner said of Vukas, Atchison and Schramm. "That's why you go to the tournament and wrestle. That's just how it goes."
Sawner said several of the DHS wrestlers would likely make the trip to Salina to root their teammates on.
The two-day tournament begins at 10 a.m. Friday at the Bicentennial Center in Salina. The tournament will conclude on Saturday.