Two of the league's best
DHS

juniors Vukas, Parr win Frontier League tourney titles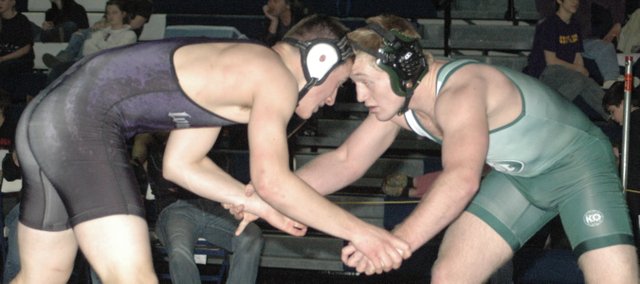 Three years ago the idea of fielding a team with two league champions seemed like a long shot.
But that's the reality in 2010 for Shannon Sawner's De Soto Wildcats as Donny Parr and Brandon Vukas won Frontier League titles at 171 and 189-pounds Saturday at the Frontier League Tournament in Eudora.
"I'm fairly proud of them since it wasn't that long ago that we had just one kid taking third place," Sawner said. "We've come a long way. This year we've had to work through some kids being hurt, moving away, et cetera. These kids are definitely heading in the right direction."
As a squad, the team finished seventh overall in the league, but De Soto only brought nine competitors to the league meet and had several weights open. This finish is a one-place improvement from last year when the Wildcats finished last at the tournament.
But still, Sawner believes some of his younger wrestlers will soon be able to compete in the same fashion as the team's leaders in Parr, Vukas and Cole Cannon. Cannon snagged a second-place finish at 160-pounds.
"They don't have the experience, but the younger guys are still really improving," Sawner said. "I think some of those guys don't realize how close they truly are. They'll make a mistake here, a mistake there, but they're going to get into that top four."
Gardner won the league title and Eudora finished runner up. Louisburg, Ottawa and Baldwin rounded out the top five in team scoring.
The top four wrestlers per weight class at this weekend's regional tournament will be afforded the opportunity to compete for a state title.
Sawner said Parr, Vukas and Cannon all have a shot at qualifying for next weekend's state tournament.
The regional begins at 2:30 p.m. Friday in De Soto. The first rounds of the competition are open to all regional wrestlers, regardless of rank and the semifinals will begin around 7 p.m. The championship rounds are scheduled for 5 p.m. Saturday.
"This week's regional will be tougher for those guys," he said. "The competition will be stiffer and it will be a better test of their abilities. Brandon has a guy from Tonganoxie that beat him earlier in this season. Donny has a guy from Osawatomie. They'll just need to compete with them and wrestle well."
More like this story