Tax help coming to the library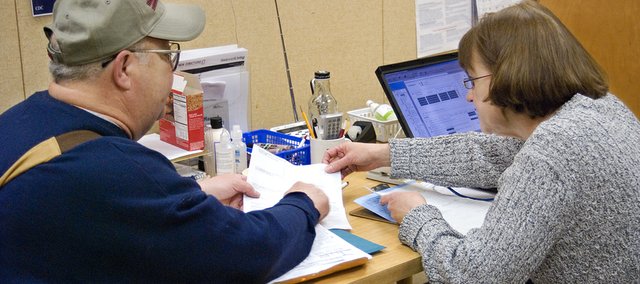 Tax time will be here before you know it.
So if you are having some trouble figuring out which 1040 form to use or if you qualify for the earned income tax credit, Janine Myers, De Soto Library information specialist, says help is on the way.
From 10 a.m. to 3 p.m. today, AARP tax preparers will be offering tax help on a first-come, first-serve basis.
"It is for whoever needs help on their taxes," Myers said. "There is no income or age limit for people they will help, but they will not do complex returns like if you own a business or a farm."
She said the tax preparers will help file any federal or state tax return and also non-resident Missouri tax returns, but not Missouri resident tax returns.
To best help volunteers, the Johnson County Library Web site states people should bring the following items to best help the tax preparers:
• Social Security cards for you, your spouse, and all dependents claimed.
• Copies of previous year's tax returns.
• All W-2 forms received.
• All 1099 forms received (1099-INT, 1099-DIV, 1099-R, 1099-B, 1099-misc, SSA-1099, RRB-1099, CSA-Form1099-R, etc.).
• All forms indicating federal income tax paid.
• Unemployment compensation statements.
• Dependent care provider information (name, employer ID, social security number).
• Details of rent paid for claiming Kansas Homestead refunds.
• Detailed summary of receipts and canceled checks for deductible items - if itemizing.

• Details of real estate taxes paid, even if you do not itemize.
• New car buyers - bring copy of documentation showing sales tax paid, even if you do not itemize,

• Homebuyers seeking new extended homebuyers credit - bring copy of closing statement showing purchase price and closing date.
Myers said she has been trying to get tax preparers to come to the library for year and now that they are scheduled to come she wants to make sure as many people as possible get help.