Musical prodigy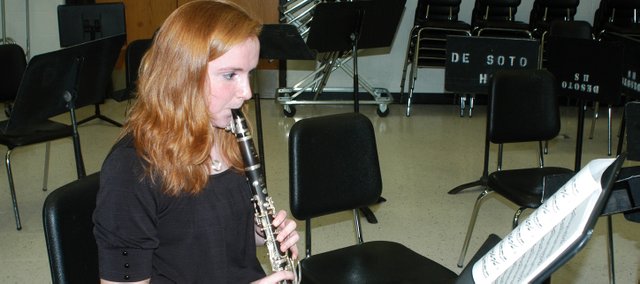 By Ashlee Kieler
akieler@theworldco.info
Katie McKeirnan is only a junior in high school, but her musical talent could rival many professionals.
Someday, Katie could very well be a professional clarinetist, but for now she's sticking to the halls and concert rooms at De Soto High School. Still, Katie's not stranger to the competitive world of musicians.
In March, Katie will travel to New Mexico to take part in the national finals for the Music Teachers National Association woodwind competition.
The Music Teachers National Association Performance competitions provide educational experiences for students and teachers, as well as, recognize exceptionally talented young artists and their teachers in their pursuit of musical excellence.
MTNA sponsors a Junior High, Senior High, and Collegiate Level Competition in brass, woodwinds, percussion and strings. Katie is competing at the senior high level.
  Katie place first in the state competition in November at Kansas University.
"I just showed up, checked in and warmed up," she said.
The West-Central Division competition was a bit different, as she traveled to the University of Missouri.
"We went there on Friday afternoon and got checked in," she said. "I got to watch a few people in the college level practice, which was really cool."
She beat out students from eight states to advance to the third and final stage of the MTNA competition – nationals.
"It's been lots and lots of practice," Katie said of preparing for the competition.
Katie said she singed up for the competition at the urging of a bandmate.
"Another student also wanted to do the competition, and she was like 'Hey, Katie you should do this too.'" Katie said.
DHS band instructor Dan Freeman said Katie was a wonderful musician.
"Katie is an incredibly strong young musician," he said. "She pairs the 'perfect storm' for a young musician — remarkable natural talent with an even more impressive work ethic."
In her sixth year of playing the clarinet Katie said she would like to do it professionally.
"I once asked a professional clarinetist what he wished he knew before he got to that level," she said. "He said the deeper you get into classical and the further you take it, the harder it becomes. And that's true in this competition. At state you have to be able to play and be good but at division you're playing against all the state winners who were good. Now, at nationals, it will be all the really good people."
Katie said she was excited to get to go to Albuquerque for the competition.
"I'm really excited to get down there and play and see what happens," she said.
At school, Katie has a few times where she can practice and get ready for competition.
"She practices hard every day, and she practices so effectively that she gets better every single time she picks up her clarinet — there's no wasted effort," Freeman said. "Just like all of life, talent only goes so far – Katie works hard to capitalize on her natural talent, and the success she is experiencing is a well-deserved reward for her hard work."
Katie doesn't have much time for extra-curriculars outside of playing music.
She is a member of the marching band, jazz band and the Kansas City youth symphony.
"With the symphony we do some pretty hard music," she said. It is a repertoire that has helped prepare her for the up-coming nationals.
It doesn't hurt that she enjoys playing classical music either.
"On clarinet that's your most basic type of music," she said. "It's what I've been playing since I started basically."
For now, Katie has her eye on the prize at the MTNA national competition.
"Not only do you have to be technically accurate, but you are making as much music as possible. You have to make sure you are conveying the music right."