JoCo Library program seeks to encourage pre-reading skills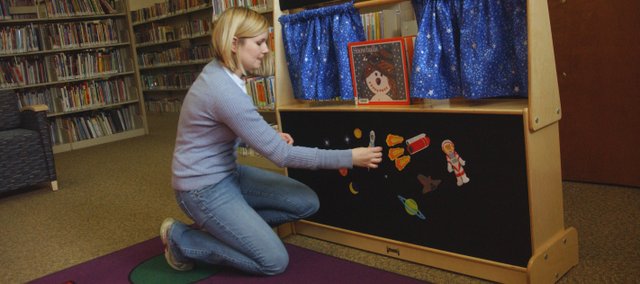 Parents can teach their children skills that will help them become readers long before they read their first sentence.
Barbara Brand, youth services manager for the Johnson County Library District, said the district has started its own take on a national initiative designed to encourage parents and caregivers to give their children skills that will help them later as they start to read.
The program, 6 by 6, was introduced at the De Soto Library in January to about 20 parents and library youth specialist Robyn Myers will return monthly to share it with local participants.
As the program's name implies, it is meant to teach six pre-reading skills and habits to children under the age of six.
The program builds on something long known and advocated: That No. 1 thing parents can do to encourage their children to become readers is to read to them, Brand said.
"The American Library Association and the Public Library Association did research on this with the National Institute for Child Health and Human Development," she said. "All that information was put together on how to prepare every child to be ready to read.
"We wanted to make it a little more local for the Johnson County Library. We have renamed the skills and had a local illustrator work on the promotion."
Many parents already use the skills and habits promoted in the program, Brand said. The program provides them structure that will allow them to focus on key areas, she said.
The six skills are:
• Have fun with book as a way to build enthusiasm in children for books and reading.
• Point out print in day-to-day settings, such as on signs and in the home, so that children understand "those squiggly lines mean something."
• Engage your children regularly in conversation to help build their vocabulary.
• Tell lots of stories to develop a child's narrative skills. Have the child tell of his days or activities with a narrative structure of beginning, story and ending.
• Point out letters to children so they can start identifying them and their sounds.
• Rhyme, sing and play word games with children.
On Friday, Myers visited the De Soto Library with the program. Unfortunately, no one showed up to participate that day. Despite the lack of turnout, she remained enthusiastic for the program she leads in De Soto and elsewhere.
"I love it," she said. "It's wonderful having the parents interact with kids, and that's want 6 by 6 is all about."
Parents in the habit of visiting libraries probably already read to their children, Brand said. With that in mind, the library district is taking 6 by 6 into the community by visiting child care providers, organizations and agencies where it can be presented to parents who don't normally visit libraries.
The programs next visit to De Soto will be from 10 a.m. to noon March 12.