Cyclones hang on late, top
DHS

boys 50-47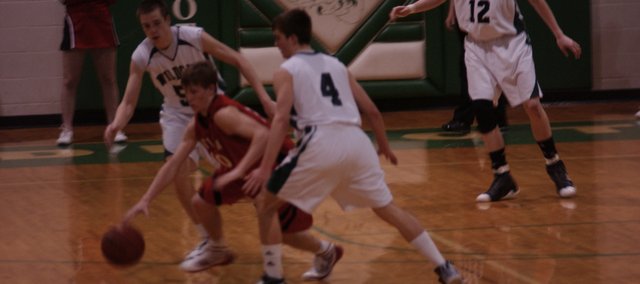 Despite two nearly heroic treys from Mason Wedel and Dylan Burford with less than 16 seconds remaining, the De Soto Wildcats fell 50-47 to fifth-ranked Ottawa Friday in De Soto.
The favored Cyclones entered the contest poised to take care of a De Soto team that has lost a few heartbreakingly close Frontier League contests earlier in the season.
But the Wildcats played with energy and composure that showed coach Jim Bonar that his squad could play with the best of the best.
"I think that game did a lot for us," he said. "We didn't lose, we got beat. And that was all right. To go out and have that happen, to play through a very ugly, very physical game against a ranked team in the state, and be in it basket-for-basket, that shows our guys haven't given up and will always battle."
Friday's game marked the return of Wedel, who had been sidelined with a shoulder injury. He brought an immediate spark to the team, getting to the basket and burying a few pivotal three-pointers to keep the Wildcats close. Wedel finished with a team-leading 12 points.
Aaron Nutterfield opened the game for the Cats with two thunderous dunks in the first quarter that brought the De Soto crowd to their feet.
But Sam Olejeye, Ottawa's freshman forward, would respond, however, drilling a three-pointer from the top of the key that put Ottawa up by three in the second quarter.
Led by Olejeye and guard Adam Hasty, the Cyclones took a 26-21 lead into halftime.
The third quarter was marked by the same back-and-forth tempo as the first two, and De Soto went into the final quarter down 37-30.
With 16 seconds remaining in the contest, Wedel bombed a crucial three that cut Ottawa's lead to 46-44, but a composed Ottawa squad drilled free throws down the stretch to ice the contest.
With 8.1 seconds remaining, and down just four, Burford connected on an NBA-range jumper to bring the Wildcats within one, but Ottawa senior Shane Steelman made two charities to end the game.
Nutterfield and Brandon Philbrook scored 11 and nine points for the Wildcats. Olejeye led the Cyclones with 15 and fellow freshman Corbin Goedert scored 12.
De Soto (9-9) will play Friday at Gardner.
More like this story