Band still shy of funding goal for Chi-Town trip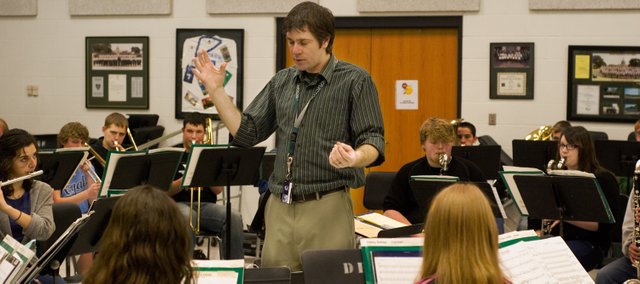 The De Soto High School band is heading to Chicago, but they need your help.
For several years, the DHS band members have been treated to a biannual trip to perform somewhere in the United States. The cities that they have performed at include Washington D.C., Dallas, San Antonio, Texas, and Colorado Springs, Colo.
Daniel Freeman, the schools band director, said fundraising and payments from band parents have paid for most of the Chicago trip, but they are still around $5,000 short of their $50,000 goal.
"At this point we have accumulated enough to go everywhere in terms of paying for the buses, the hotels, and paying for admission to all of the shows and museums," Freeman said. "The catch is we have several meals on the trip, like the museum food court, where we'll have to give the kids $5 rather than giving them $10."
Each of the nearly 100 Chi-Town bound students was responsible for $560 for the nearly week-long trip. The trip will also include 15 chaperons.
So far student families have given $25,000 and another $20,000 have come in from other fundraising donations. The rest of the money will need to be gathered before the band leaves on March 12 and returns March 17.
Despite some of the fundraising shortfalls, the excitement for the trip is palpable in the band room.
For many juniors and seniors, this is their second band trip and the excitement hasn't diminished.
DHS seniors Ry Patton, Sophia Young and Becca Roberts are all veterans of the 2008 San Antonio trip. They said they were looking forward to many of the planned activities.
"We are going to go see the Blue Man Group and go up the Sears Tower – it's going to be awesome," Young said.
Also on the trip's agenda is a visit to the Field Museum where they will also perform, a trip to the Shedd Aquarium, and a stroll down Navy Pier.
Freeman said the students are also going to be given the opportunity to participate in a band clinic with staff from Northwestern University.
"It's a great way for us to get some practice and to get some feedback on how we're playing," Young said.
If you want to see what your donations will be paying for there is an opportunity to see the band live on Monday.
The school's symphonic, concert and jazz bands will be performing at their midwinter concert at 7 p.m. at the high school.
Freeman said notary publics will be available at the concert for parents of band students who haven't gotten their child's medical release form notarized.