Antique tractors De Soto man's relaxation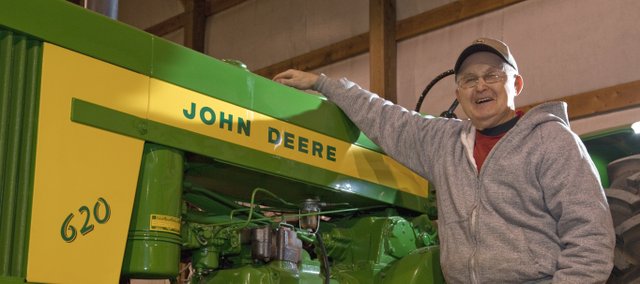 Thurman Duncan first climbed on a John Deere tractor when he was 9 years old to help farm his parents Missouri dairy farm.
It's been a love affair since. And although he has contemporary John Deeres, it's his growing collection of tractors from the 1937 to 1958 that has the 71-year-old De Soto man's heart.
"I just like them," he said, as he looked at three of his collection with a slight grin and a shake of the head. "I've always liked them. Even when I was a farm kid at home, I admired John Deeres.
"They were always very solid. Some other tractor companies got away from that. John Deere never did."
Duncan started his collection eight years ago when he rebuilt a tractor he found in Wellsville. He's completed eight more restorations since in his shop near De Soto known as John Deere South. Six more rebuilds are in progress, and the remains of four tractors are piled outside awaiting their turn.
"I'm not much of a TV watcher. It helps me relax the mind. It helps me get away for all this," he said of his work at the family construction firm of R.L. Duncan.
The restorations bring him to the shop most evenings, where he often works with Kevin Haefner, who is rebuilding his own John Deere in the shop.
"We've known each other for a long time," Haefner said. "One day we stared talking at a job site, and I found out he did this, too."
Duncan said he can spend as much as two years rebuilding a tractor, depending on its condition. It's a real hands-on process as he reconditions frames and tears down engines for Danny Sneed of De Soto to rebuild in the shop. As a finishing touch Haefner repaints them John Deere green and yellow.
One benefit of restoring John Deeres is the company still makes gaskets, belts, and even carburetor kits for the old tractors, Duncan said. That's not true of internal engine and drivetrain parts.
"Sometimes you have to find gears," he said. "That's a little more of a challenge. That's when you have to get on the Internet."
But John Deeres are famously reliable, and he has only found one broken gear in the rearends he's torn apart, Duncan said.
Like the people who farmed with them, John Deeres of the period he collects have an honest simplicity, Duncan said. They're powered by two-cylinder motors with pistons from 6 to 9-inches in diameter that fire with a distinctive rhythm that gave the tractors the nickname, "Johnny Poppers."
"They say Harley Davidsons have a distinctive sound," Haefner said. "There's nothing else that sounds like these old John Deeres when they get going. Pop, pop, pop."
The motors are matched to a gear train that if not over-engineered provided farmers with the confidence they would never break down in the field during harvest and the torque needed to break any ground, Duncan and Haefner said.
"The motors never turned much more than 500 RPM," Haefner said. "When you put it in low gear, you could probably crawl faster than it was moving."
Duncan said he admired the quality John Deere continued to put in its tractors, but he said the modern large field and smaller garden tractor in a corner of the shop with their plastic body parts wouldn't take the neglect the old iron and steel Johnny Poppers endured. He's salvaged one tractors that sat so long trees were growing through the wheels to the point they were reaming out a valve-stem hole.
"I had to cut down a tree to get the tractor out of there," he said. "It took me eight hours to weld a piece in place to fix the wheel."
He can talk at length about all his tractors, but he said two stand out.
"I've got a very special 1958 620," he said. "It's got a brass identification tag. Back then when a farmer got everything they produce on a tractor, power-steering and all that stuff, they put a brass tag on it.
"It's the Cadillac of my collection."
The other special tractor is a 1946 GM.
"It's called a '46, but it was really built in '44 or '45," he said. "Plants were supposed to be working only on war production, but farmers wanted tractors to get in their crops.
"They bootlegged parts to build 900 tractors. I've got the only one in this part of the country."
Duncan said his daughter called about the tractor when she saw it would be part of an estate sale in Johnstown, Colo., where it had been owned by a sugar beet farmer. Later, she would bid from the instructions he gave her over a cell phone.
Most of Duncan's rebuilt tractors are as bright and shinny as those in a showroom. The exception is a 1937B that is entered into pulling competitions, which has the duller, working patina.
"I just like to get on it and pull," he said. "I've got it bored out a little bit. The pistons are a little bigger than they should be."
As for the rest of the collection, Duncan said he liked to show them off at parades and they are a fixture in the De Soto Days Parade. He also like to work them out occasionally at antique tractor plow days.
"That's what they're made for," he said. "But after all the work we put into them, I feel they are better than when they came out of the factory. I kind of hate to get them battered up too much."
More like this story