Wildcats look to roar at league tournament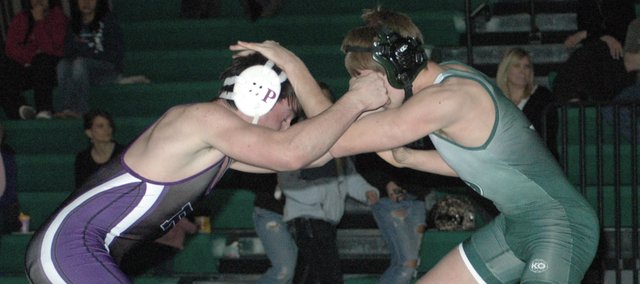 The Frontier League teams can breathe a collective sigh of relief next year when Gardner leaves the conference.
But for Saturday, Shannon Sawner believes the Trailblazer wrestlers are still the heavy favorite to win league.
"They're one of the top ranked teams in (Class 5A)," the De Soto coach said. "They're going to be hard to beat. They've won three years in a row."
As for the rest of the competition, Sawner said Baldwin and Louisburg would both field competitive teams capable at making a run at a league title.
"We've seen most of the teams in our league, and they're all pretty solid," he said. "Baldwin and Louisburg are looking really good this year. They've placed high in a couple tournaments. They'll be right up there behind Gardner."
The Wildcats are trying to stay out of the cellar this year as they finished last in the league in 2009.
"We just always want to improve, and to build on last year," Sawner said. "All the league schools are also in our regional, so it's important we do well this weekend."
Sawner believes the Wildcats are strong at the 160, 171 and 189-pound weight classes, where Cole Cannon, Brandon Vukas and Donny Parr will compete, respectively.
"Anderson County had three real good kids at those weights, and we won all three of those matches," Sawner said. "We want to see some other guys step up Saturday, but those three are definitely where we are the most solid right now."
De Soto lost its double dual Thursday to Anderson County and Eudora, but left four weight classes open because of injuries.
"It's tough when you spot each team 24 points," Sawner said. "It makes it hard to win a dual," Sawner said.
The Frontier League meet will begin at 9 a.m. Saturday at Eudora.