Sizzling start boosts Cats
Philbrook's 27 paces
DHS

in 74-56 victory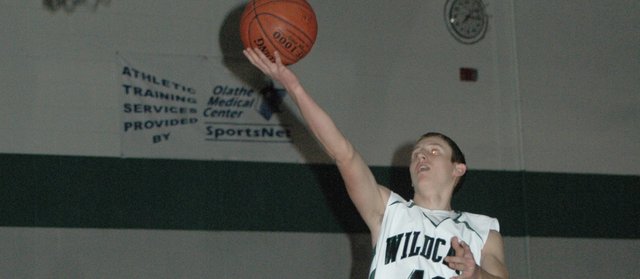 At the end of the first quarter the score was Brandan Philbrook 17, Maize South 14.
Philbrook and the Wildcats exploded out of the gate Tuesday at home against the Mavericks and never relented on the way to a 74-56 victory.
The Wildcats won the opening tip and went on a 13-5 run, highlighted by a barrage of threes from Philbrook.
The senior proved he could play a little defense, too, earning three steals and capping one of them off with a monster two-handed dunk that raised the gymnasium's noise level a few decibels.
"Brandan was really on with his (shooting) tonight," coach Jim Bonar said. "He got a couple of good steals early and some guys hit him for some layups. He's been lights out the last couple of days at practice. So for him and us to get started like that and get 25 in the first quarter, that was a good feeling."
Philbrook, who sat much of the second half due to the progressing blowout, finished his night with 27 points.
The rest of the first half belonged to Bonar's big boys inside. Daniel Peterson and Aaron Nutterfield made for lopsided rebounding totals against the undersized Mavericks.
"We knew we had the size and knew we had to control their No. 1 player," Bonar said. "Nutterfield and Peterson worked really hard on the boards and that made a huge difference."
Peterson tallied 14 points — most of them coming off hard-earned put-backs — and Nutterfield added 10 of his own.
The message at halftime was for Maize South to begin to warm the bus as De Soto confidently trotted to the locker room with a 40-20 lead.
"The fact that we've gotten off to such a poor start the last few games, to come out like that, that was huge for us," Bonar said.
The third quarter went down just as easy as the first two, as Nutterfield teamed up with guard Jeff Bowen to increase the Wildcats' lead to as many as 30.
Bowen ignited cheers from the crowd when he blew by his defender at the top of the key, drove to his left and tossed up an off-balance shot high off the glass for a layup.
With such a huge lead, Bonar was granted the opportunity to play some kids normally reserved for junior varsity.
"It was a fun game from a coaching standpoint for me because I got to actually get everyone in the game and get them some significant minutes, rather than just a minute and a half at the end of a ballgame," Bonar said. "It's fun to reward kids like that."
De Soto (9-8) will play Ottawa Friday at home.