Petty lifts
DHS

girls past Maize South, Spring Hill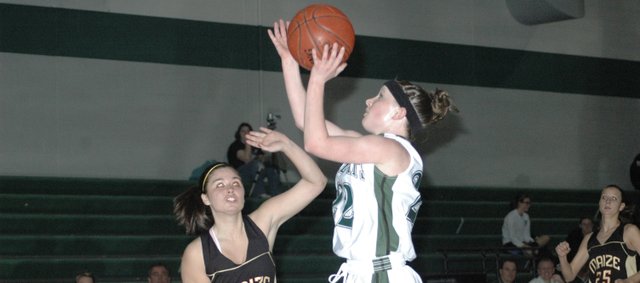 Full helpings of Shelbi Petty and the Gorman sisters were all the Maize South girls basketball team could handle Tuesday in De Soto, as the Wildcats toppled the Mavericks 44-31.
Unable to rotate its zone defense quick enough, Petty exposed Maize South with four three-pointers in the first half en route to a 17-point performance. In fact, Petty was so electric in the first half that Maize South developed a special defensive strategy to try and stop her.
"Maize did that little diamond and one on her," coach Dwight Spencer said. "The thing is, our other players got looks they normally knock down. If we had knocked down three or four of those good looks in a row, (Maize South) would have had to get out of that junk defense. But nobody could find any confidence in those shots we normally make. Those nights happen."
The teams remained close throughout the first quarter, but De Soto began to open things up late in the second. Deadlocked at 18 with just less than two minutes to play before halftime, De Soto went on a 7-0 run to end the quarter. The highlight of the final minutes came as the time was running out, when senior Tami Crow pump faked with two seconds remaining, got her defender in the air and drilled a long two-pointer just as the clock hit double zeros.
Spencer spent halftime addressing the team's defense, which had been plagued by backdoor cuts to the basket.
"The first half they just killed us on that weak side and got several easy ones," he said. "In the second half we started looking for that and began to get what I like to call our secondary defense going. We helped on that side and tipped a couple of their shots to create turnovers. The girls did a much better job staying with the cutters."
Katie Gorman created space for herself in the low block in the third quarter and scored four of the team's six points off feeds from Kelsey Fisher and Petty.
The Wildcats took an 11-point lead into the fourth quarter — one they would not relinquish for the remainder of the contest.
Ashley Gorman tallied six of her eight points in the final quarter while the rest of the squad moved the ball effectively around Maize South's man-to-man defense to preserve the victory.
"I was pleased with the way the girls played hard and got the tough win," Spencer said.
De Soto also beat league foe Spring Hill 50-38 Friday on the road. Spencer said it was De Soto's best game of the season. The Gorman sisters combined for 28 rebounds in the contest and Petty led the team in scoring with 21.

De Soto (9-7) will play league foe Ottawa Friday at De Soto.