Lenexa plans roundabout at
MCMS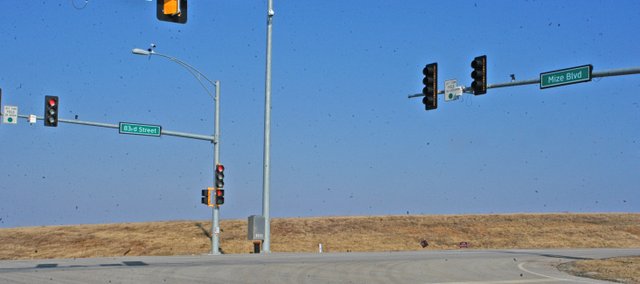 Lenexa officials at an open house Jan. 25 laid out their plans for a road construction project that will include changes to the entrance to Mill Creek Middle School.
The project consists of the reconstruction of Mize Boulevard north of 83rd Street to 79th Street and construction of 79th Street from approximately 1,000 feet east of Mize Boulevard to approximately 2,150 feet west of Mize Boulevard.
The road improvements include gutters, curbs, storm sewer, street lighting, sidewalk and pedestrian trails and roundabouts in three locations along Mize Boulevard.
Tim Tucker of Phelps Engineering said the goal was to begin construction Memorial Day weekend.
Tucker said the construction on Mize would include one roundabout at the entrance to Mill Creek Middle School.
Jack Deyoe, De Soto USD 232 director of operations and planning, said the hope was for the access road to the rear entrance of Mill Creek Middle School, which is part of the improvement to 79th Street, to be completed before the current school year was completed.
"The idea is that 79th Street is part of their plan, and what they are going to do is create an access from the north off of 79th into the school building so that there is an access point when Mize is closed," he said.
While Deyoe said the plan was to begin the 79th Street access construction in March, delays because of weather could cause the access road to be temporary so construction on Mize could begin on time.
"If the start gets delayed … they will do temporary access on 79th but not do full improvement," he said. "This way they can get to work on Mize Road. That's the time sensitive one because that would affect more in the school year."
Deyoe said the district was looking to move summer programs at Mill Creek Middle School to other schools.
Tucker said the city of Lenexa, Phelps and the school district would continue to communicate advancement on the construction.
"We want to let everybody be aware of what's coming and what the project is," he said.