Winner take all
Heavyweight victory boosts Wildcats past Pirates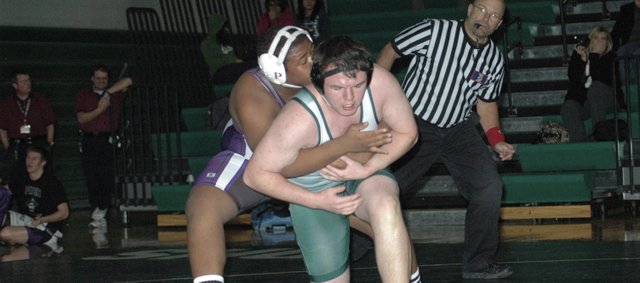 It seemed fitting that the best match of the night was the last match. That bout was the havyweight dual between De Soto's Shane Schramm and Piper's Caleb King.
With the score knotted at 30, the two grapplers battled back-and-fourth, neither unable to score through the first two rounds of the match. But Schramm outscored King 3-2 in the final round, and the Wildcats topped the Pirates 33-30.
Even when King took the lead late in the match, Schramm wasn't nervous. He's been in this situation before. Early in the season, the same setting unfolded at Santa Fe Trail. And Schramm also won the match to give the Wildcats the win.
"I like the pressure," Schramm said.
In the final round, the score was tied at zero until Schramm scored a technical point with 1:35 to go, and the DHS faithful erupted. King, though, answered back with two points with 40 seconds remaining. Victory looked bleak for the Wildcats, but King faulted and Schramm was awarded a point on the restart. Schramm then battled up from his knees and grappled fiercely with King. Then Schramm scored a standing point with just 13 seconds left for the win.
"It's always fun when they end like that," coach Shannon Sawner said. "And that's how a lot of duals go. It comes down to the heavyweight match. But the whole team wins and loses. It's not one kid. We got some key wins earlier to give Shane the opportunity to do that. But that puts a lot of pressure on the heavyweight, and it's always good to see them come out on top."
While Shane Bunn (103) and Christian Zwahlen (119) picked up early wins, De Soto trailed 24-12 after the 152-pound match. But Cole Cannon (160), Brandon Vukas (171) and Donny Parr (189) notched wins late, setting up the wild finish.

"We're improving at a pretty good rate," Sawner said. "We need to get some of younger guys up to speed a little. We're battling with sophomores and juniors and a bunch of freshmen. So I feel pretty good about where we're at, but I also don't want a let down. We've got to keep improving."
De Soto will battle Eudora and Anderson County in a triangular Thursday at Garnett.
"That ought to be tough for us," Sawner said. "We're just going to keep working. We've got three more weeks to get ready. We've got that, then our league tournament and regional. It's all just working towards the end of the season."