Cat girls out-hustled in 74-55 loss to Paola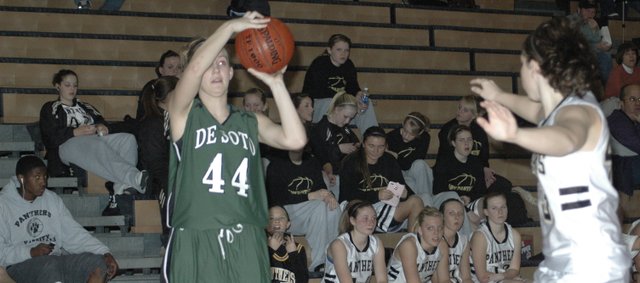 The frustration on coach Dwight Spencer's face after the game told the story.
The Wildcat girls could have won the game Tuesday at Paola, but the Panthers got their hands on more loose balls, especially below their own basket. And Paola converted those second-chance opportunities into points, and the Wildcats fell 74-55.
"We were out-hustled," Spencer said. "From the beginning of the game, we gave up a lot of balls that were laying on the floor."
While the Panthers seemed to gather every loose ball, the Wildcats were in the contest most of the way. De Soto trailed by just three at 29-26 at the half and was down just six at 46-40 at the end of the third quarter.
After Paola scored first at the start of the quarter, Shelbi Petty cut an eight-point deficit to five with a three-pointer with six minutes to play. But Paola answered with a 15-4 run that put the game out of reach.
De Soto, though, still ran its offense effectively, and Petty slashed through the Panther defense twice for layups. But even in the final few minutes, Paola converted two layups against De Soto's press.
"A lot of teams can shoot the ball when you give them good open looks, and they got a lot of good open looks," Spencer said.
De Soto will look to bounce back when it takes the court again Friday at Spring Hill.
"They are one of the top teams in the small classes," Spencer said of the Broncos. "We've got our work cut our for us if we don't play better defense. I know they are good. I know we are going to have to play better defense."