Boys let lead slip away, fall late to Panthers 63-62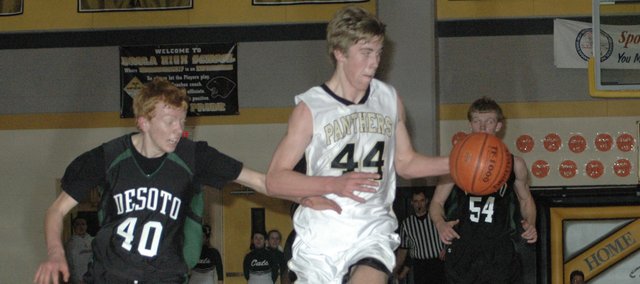 The De Soto boys basketball team would sure like to have the beginning of the third quarter and end of the fourth quarter back.
After all, twice during those crucial times in the second half, De Soto let leads slip away. And the Wildcats fell just short and lost 63-62 Tuesday at Paola.
Thanks in part to three first half slam dunks by 6-foot-7 forward Aaron Nutterfield, De Soto led 32-26 at the half. Nutterfield even scored the first bucket of the third quarter on a stick-back after pulling down an offensive rebound.
Then disaster struck as Paola was scorching hot. Paola's next five field goals were all three-pointers, and De Soto's lead vanished.
"We had so many defensive breakdowns to start that third quarter," coach Jim Bonar said. "That's when I burned all my timeouts. I was furious with them. We did not come out ready to play, and we got ourselves down."
Paola outscored the Wildcats 27-10 in the third quarter, and had a 53-42 lead heading into the fourth quarter. But De Soto regrouped and roared back in the fourth.
De Soto opened the quarter with a 15-2 run, fueled by six points from Nutterfield, four from Daniel Peterson, a three-pointer from Brandan Philbrook and two free throws from Dylan Burford. Burford's free throws put the Wildcats back on top at 57-55 with 3:35 to play. But the Panthers answered with an 8-0 run, six of those points coming on layups on De Soto turnovers.
"We finally battled back into it, and then a couple more plays that we just weren't thinking and we were careless with the ball," Bonar said. "And we took ourselves out of a chance to win. We battled back to give it away again."
Two of those late turnovers were in De Soto's backcourt, which gave the team no chance to get back on defense.
"They just turned around and picked us," Bonar said. "We were careless with the ball, and they turned around and scored. There's no chance to defense that."
Down 63-59 with 20 seconds to play, De Soto made things interesting when Philbrook swished another three from the right wing and cut the lead to one with eight seconds to play.
De Soto fouled on the ensuing Paola possession, and the Panthers missed the front end of the one-and-one. And after a loose ball scrum for the rebound, it was De Soto's ball with just half a second on the clock.
Philbrook's three-quarter-court heave missed wide left, and the Panthers walked off the court victorious.
"We just let up in the third," said senior forward Paul Stallbaumer, who scored three points in the game. "It was tough. We let up defensively, and I guess we came back and scored and got some stops in the fourth quarter."
Nutterfield led De Soto with 22 points and nine rebounds.
"He was good tonight," Bonar said. "And that's where we should have gone with our last attempt at the goal, but I burned my timeouts so we couldn't set anything up. It was a hot and cold game, and a proud and disappointing game for me."
The loss marked De Soto's second straight loss in league play.
"We played well enough to win if we didn't beat ourselves at the very end," Bonar said. "We were ahead at the end of the half, came out and got the first two points of the third quarter and were up eight. Then we had a four or five minute lapse that was just pure ugly."
De Soto will play Friday at Spring Hill.
More like this story