District starts fund for students in need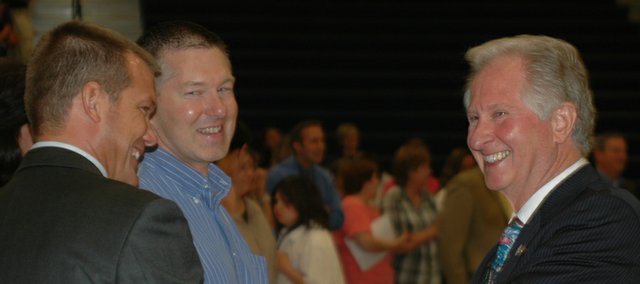 Ron Wimmer will leave a lasting legacy at De Soto USD 232, whether he intends to or not.
The creation of the Ron Wimmer Student Care fund will carry on after the interim superintendent leaves the district at the conclusion of the 2010-11 school year.
The fund, which was approved by the Board of Education in July, would offer help to families and students of the district in special needs. Situations where funds could be used include helping a family with medical bills, purchase new shoes or winter coats for students, as well as offering help after a fire, Wimmer said.
Wimmer said the idea came from his time as superintendent of Olathe USD 233, where he helped to create a similar fund.
"We had a gentleman, a philanthropist, who made quite a financial contribution to the Olathe district over many years," Wimmer said. "With some of the funds he provided the district, he provided a letter to the board to allow my to spend some of those funds to help families and children in need to keep them in school. I found that really rewarding."
When Wimmer retired from Olathe, instead of accepting a gift he asked the district to set up a student care fund to continue providing funds for families and students. The district named the fund after Wimmer, creating the Ron Wimmer Student Care Fund.
Using that model, Wimmer noticed there were families in similar situations in the De Soto district.
"I thought it was a good idea to start something like that in this school district," he said. "Last year I encountered many ways to help students and families. I tried to help some personally but not in any organized way."
Wimmer decided to expand the generosity to the school district by asking the board to support him in generating donations to create the care fund.
After contacting some area businesses, Olathe Ford, Turner Construction Co. and Main Street Credit Union provided donations to get the fund off the ground.
"I've had a very positive response from people," Wimmer said. "Many already have given personal contributions. One lady in our office gave five $20 bills to help. I think that individual demonstrated the spirit of what this is about."
The fund has already helped one family. On Wednesday, Aug. 11, during the district's convocation, the Shelton family received a $500 contribution from the fund. The family has undergone difficult times after their son, Jimmy, was treated last year for cancer in his leg. He had the limb amputated in September 2009.
Wimmer said he planned to create a committee to review requests for use of the fund.
"The idea is to be able to respond quickly," Wimmer said. "We will have guidelines and decide collaboratively. It's just practically endless in terms of the needs of families."
Wimmer said the donations also could be handled with confidentiality as requested.
During convocation, Wimmer was surprised and honored to learn the fund will bear his name, making it the second Ron Wimmer Student Care Fund in the metro area.
"I did not know that was coming," he said. "I appreciate the board and Alvie (Cater, director of administrative services and community relations) for wanting to do that, but it's secondary to actually helping the fund. I just want to get the fund going and help others."
Wimmer hopes to raise about $10,000 this year for the fund.
Lend a hand
Anyone interested in making a contribution to the Ron Wimmer Student Care Fund can send a check, made out to USD 232 with Student Care Fund in the memo, to Wimmer at the district's administrative office, 35200 W. 91st St., De Soto, KS 66018.
More like this story