Shawnee resident identified as victim in
KCK

homicide
A suspect is in custody in last week's slaying of a Shawnee man, but Kansas City, Kan., Police continue to seek information in the case.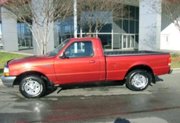 KCK Police identified the homicide victim as Marcus W. Durbin, 29, of Shawnee. He was killed Friday, Aug. 6, in the 5500 block of Kaw Drive in Kansas City.
One suspect is in custody at the Wyandotte County Jail, where he is being held on a $1 million bond.
Police, however, still have questions about the case and are asking for the public's help. They say they need help locating a red, 1990s Ford Ranger driven by a white male in his 20s who goes by the name of "Chucky." Police say "Chucky" keeps company with a white female in her 20s known as "K.J."
The couple are said to frequent Wyandotte County and the southern part of Johnson County around De Soto.
The Kansas City, Kansas Police Department's Major Case Unit is encouraging anyone with information regarding the incident or that will assist in locating the vehicle to call (913) 573-6020, or the TIPS Hotline at (816) 474-TIPS (8477).