Friends gather to remember teen killed in tragic accident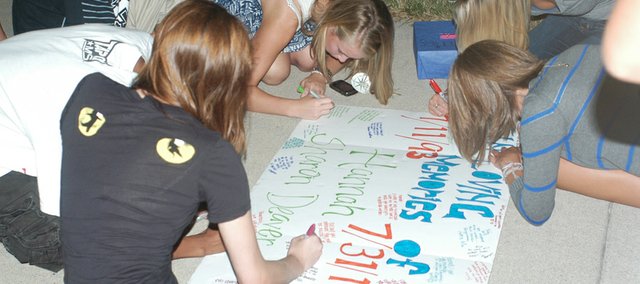 Hannah Deaver was the type of girl who attracted people with her ability to light up a room.
"When she walked through the door with that smile, people would come to her," said Matt Moore, Hannah's fiancé. "She brightened up the day every day."
About 200 of Hannah's friends and family gathered Aug. 4 at Garrett Park for a candlelight vigil in her memory. Hannah, 17, died July 31 from injuries sustained in a truck racing accident in Lyon County.
Hannah's friends Olivia Rodriquez and Ryanne Burke began organizing a ceremony shortly after Hannah's death to remember the friend that was such a happy force in life.
Moore, who began dating Hannah in August last year and proposed about six months ago, said Hannah hardly ever got mad, and if she did, she couldn't stay mad for more than half an hour.
"She was really outgoing," Moore said. "She never really had a dull moment."
Moore said after high school, Hannah wanted to continue her education and become an emergency room nurse.
"That's what she was into," Moore said. "She always watched the ER shows and trauma shows, so that's what she wanted to do."
Hannah loved to get out and try new things, Moore said, though she had some constant activities she loved, like going fishing — and she may have had a slight obsession with Toaster Strudels.
But her favorite activity in the past six months was spending time with her fiancé.
"Matt and her were the most amazing couple possible," said Jamie Kurzen, a family friend. "You know they were the couple that was going to go the long haul."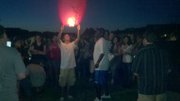 Friends and family who gathered at the ceremony heard a prayer from friend and 2010 Mill Valley graduate Bryce Edwards in Hannah's memory and lit candles for five minutes of silence. A sky lantern was lit and released, and friends signed a poster and wrote down favorite memories to give to Hannah's family.
Friends at the ceremony also hoped to set some facts straight. Victoria Williams attended the "Mud-A-Thon" event at the Lyon County Fair with Hannah and it was Victoria's truck in which they were sitting when one of the Mud-A-Thon vehicles went out of control and plunged into the crowd.
"I moved to sit on the tailgate before that race, and it saved my life," Victoria said.
She said they did not know the other girl who was injured in the accident, though some media reported she was sitting in the same truck.
Those who were with Hannah watching the race were all friends of Kurzen, whose father-in-law runs the event. Kurzen said despite what some others were saying in the media, Hannah and her friends were not sitting in an unsafe area, and it was truly an accident that could not have been prevented.
"This is the most freaky thing that has ever happened (at a Mud-A-Thon)," Kurzen said, saying event organizers always take the utmost safety precautions. "If they were parked where they shouldn't have been, somebody would have moved them."
Those who attended the candlelight vigil took the lesson that life is fleeting to heart. As the ceremony closed, Edwards challenged the crowd to treat everyone kindly, because you never know if it might be the last time you talked to them.
Moore said the idea was similar to Hannah's motto in life.
"Live life to the fullest — live like you were dying, she would say," Moore said.