November ballot positions set; Moran defeats Tiahrt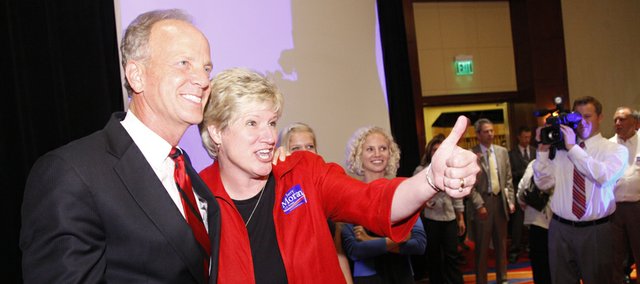 Primary ballots across Kansas are all but counted, and voters gave a congressman from the state's Big 1st District a big first boost toward becoming the state's next U.S. Senator.
Jerry Moran of Hays, who has represented Kansas' sprawling, western 1st District since 1997, defeated fellow Congressman Todd Tiahrt to win the GOP nomination for U.S. senator.
With all 3,316 precincts statewide reporting, Moran had captured 160,620 votes, or 50 percent of the ballots cast. Tiahrt, of Goddard, had received 144,221 votes, or 45 percent. Two lesser-known candidates, Tom Little and Bob Londerholm, combined to just over 18,000 votes.
Tiahrt, who continued to lag in statewide polls going into Tuesday, made a late charge with the backing of tea party conservatives and the endorsements of such conservative luminaries as Sarah Palin Karl Rove and James Dobson. Moran had his own conservative backers, too, including Sen. Jim DeMint of South Carolina, also known as "Senator Tea Party."
Moran now is the heir apparent to the Senate seat that is being vacated by Sam Brownback, who won the GOP nomination for governor on Tuesday. Kansas voters haven't delivered an Election Day victory to a Democrat since the 1930s, and Moran will look to keep that streak intact.
Johnson County GOP voters sided with Tiahrt, giving him 49 percent of the vote (31,939 total) to Moran's 45 percent (29,184), with all 447 county precincts reporting.
Early Wednesday morning, Moran acknowledged the rough-and-tumble campaign. "Primaries within the family are a very difficult thing," he said.
Tiahrt, for his part, vowed to back Moran in November. "I do not want a Democrat senator from the state of Kansas."
That Democrat would be Lisa Johnston, a Baker University administrator from Overland Park, who won a five-way primary with 25,344 votes (31 percent). She easily outdistanced her closest challenger, Charles Schollenberger, who received 19,170 votes (24 percent.)
Closer to home, voters in both major parties were selecting their nominees for Kansas' 3rd Congressional District, a seat held since 1999 by Democrat Dennis Moore, a former Johnson County district attorney who is retiring this year.
Moore's wife, Stephene, was declared winner of the Democratic nomination, outdistancing her lesser-known opponent, Thomas Scherer of Prairie Village, 16,539 votes to 4,661, nearly 80 percent of the vote.
Stephene Moore will face the Republican nominee, Kevin Yoder of Overland Park, who won a nine-way GOP primary with 45 percent of the vote.
"I am not a career politician, but as a nurse, mother, grandmother, and long-time resident of the area, I know the people of this district and what you expect in a representative," Stephene Moore said. "In Congress, I will work with Democrats and Republicans to create jobs, balance the budget, and continue to invest in education."
Yoder, who has spent four terms in the Kansas House representing the 20th District, garnered 31,706 votes. His closest competitor was Patricia Lightner of Olathe, a former state representative and onetime House majority whip, who received 26,276 votes. No one else in the crowded field had more than 2,600 votes.
"Voters are looking for new, fresh leadership. They're looking for someone who can cut spending and balance budgets," Yoder said. "And I think they're looking for someone to change what's happening in Washington, and I think we were able to convey our strength in those areas."
In the only state legislative primary involving voters in Shawnee, the 17th Kansas House District in south-central Shawnee, incumbent Jill Quigley was defeated by fellow Lenexan Kelly Meigs, 53 percent to 47 percent, for the Republican nomination. Meigs will face Bryan Cox, a Shawnee Democrat, in November.
In the only nonpartisan race decided Tuesday, incumbent Annabeth Surbaugh will meet former Overland Park mayor Ed Eilert in the November general election to chair the Johnson County Commission. Eilert received 31,108 votes (41 percent) while Surbaugh received 22,882 votes (30 percent). Not advancing were former County Commissioners John Toplikar of Olathe, 14,894 votes (19 percent), and John Segale of Shawnee, 7,693 votes (10 percent).
Other Republican races
Brownback easily won the GOP nomination for governor, defeating Joan Heffington of Derby. Brownback received 259,936 votes, 82 percent of ballots cast. He'll face Tom Holland, a state senator from Baldwin City, who was unopposed in the Democratic primary.
In the attorney general's race, Derek Schmidt of Independence was defeated Ralph DeZago of Herington, 205,590 (76 percent) to 63,578 (24 percent). Schmidt will face incumbent Steve Six of Lawrence, who was unchallenged Tuesday, in November.
Schmidt declared victory about 10:30 p.m. and said he looked forward to running against Six, who was appointed to the post by then-Gov. Kathleen Sebelius after Paul Morrison resigned in a sex scandal.
"At the end of this fall campaign, for the first time in almost three years, Kansans will have an attorney general of their choice," Schmidt said. "No candidate in this race has ever been elected attorney general. This is a race for an open seat."
For secretary of state, Kris Kobach of Piper held off Elizabeth Ensley of Topeka and J.R. Claeys of Salina. Kobach had 154,057 votes (51 percent) to Ensley's 82,148 (27 percent) and Claeys' 67,973 (22 percent).
Insurance Commissioner Sandy Praeger of Lawrence turned back a primary challenge from David Powell of El Dorado for the GOP nomination. Praeger received 189,011 votes (63 percent) to Powell's 110,464 (37 percent). Praeger is unopposed in the general election.
Democratic races
The Democratic nominee for secretary of state is incumbent Chris Biggs, who defeated State Sen. Jack Steinegar of Kansas City, 48,743 votes (60 percent) to 32,119 (40 percent).
Biggs declared victory about 10:30 p.m.
"I have been honored to serve as Kansas Secretary of State, and I am proud to have been nominated by Kansas Democrats to stand for election in November. I am looking forward to a vigorous discussion of the issues pertinent to the office and working towards victory in the general election," Biggs said.
The general election is three months from now, Nov. 2.
More like this story