De Soto High seniors tackle controversial issues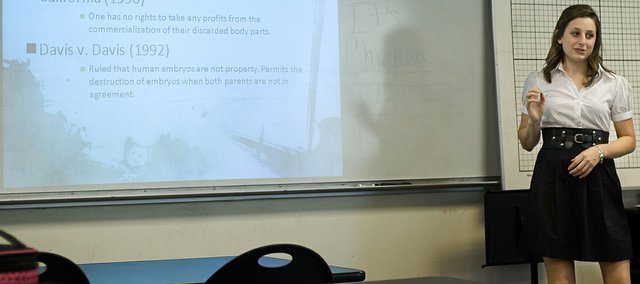 If you want to know how today's youth feel about major controversial issues all you needed to do was stop by De Soto High School last night.
For the second year, DHS freshman, juniors and seniors presented the results of months of research into social issues to the public during the school's Social Studies Presentation Night.
"You can tell they've really learned something and they feel proud for what they've done," Mike Murphy, DHS social studies teacher said.
The freshman class was tasked with creating an action plan to enhance the lives of those less fortunate in regions of the world they have chosen.
The juniors answered the question, "What does America means to you?" Groups of these students based their answer on the selection on "three specific people, events, and/or themes that create our unique national identity."
The seniors' projects were the culmination of months of research over certain controversial issues.
Some of the issues the students researched were regulation of greenhouse gases, abortion and gun rights.
They were allowed to either give informal presentations on presentation boards to passersby or give a formal Power Point presentation to an audience.
Social studies teacher Mike Murphy said allowing the students to give formal presentations to a public audience gives the students a chance to demonstrate all they have learned.

Sometimes the students educate the public, but sometimes the students educate themselves.
"We've found five or six kids a year change their stance," Murphy said. "Now they are in the middle ground. They see that there is a gray area and it depends on the situation."
Watch video of four senior presentations.
Most of J.P. Doherty's presentation on abortion. The rest of the presentation can be found in the attached audio clip.
Audio Clip
Andrew Konetzni's presentation on Title IX. The video had trouble connecting so it is split into two parts. Part one. Part two.
De Soto Explorer Kayla Kopp's presentation on the legalization of marijuana.
De Soto Explorer Watch as Clare Krska gives her formal presentation on stem cells