Prairie Ridge teacher honored for letter-writing program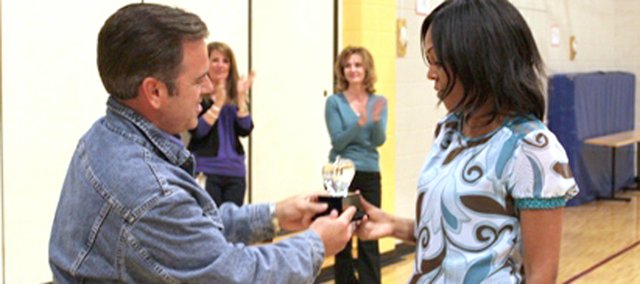 The teachers and students at Prairie Ridge Elementary in Shawnee thought they were attending an assembly Monday morning to celebrate academic success. That all changed when Fox 4 News anchors Loren Halifax and Mark Alford interrupted the program with a special announcement. Third grade teacher Brandi Leggett was this year's 2010 Crystal Apple Award.
Video of Leggett receiving the award will be on Fox 4 News every hour from 5 – 9 a.m.
Since its inception, Fox 4 has honored more than 100 teachers who dedicate themselves as true mentors to the students they teach. Only four teachers receive the award each year. In addition to the Crystal Apple, Leggett received two roundtrip tickets from Southwest Airlines.
Leggett was secretly nominated for the award by her students and their parents because of the inspirational classroom project called power of the pen.
The project was a writing exercise intended to change students' attitude towards writing. Leggett created the project when she was a teacher in Philadelphia.
"I really want the children to understand how much writing can have an impact in their lives," Leggett said. "I know it works from personal experience."
Her students have written letters to celebrities, coaches, and other influential persons and have been amazed at the response.
John Travolta received a package with the children's letters. He replied by sending each of the students a personally autographed photo with the message "students, studying leads to success. Read and write, it works!" written on it.
University of Kansas basketball coach Bill Self also replied to the class' letter with his own letter and a letter to Kansas State University basketball coach Frank Martin made a personal visit after receiving his letters.
This is Leggett's first year with USD 232. She graduated from Olathe North High School and attended Temple University on a full scholarship to play soccer.
She majored in sports marketing, thinking that was the direction she wanted to go. Leggett said she began substitute teaching and found she enjoyed it very much. Her mother is an educator and it seems the gift of teaching runs in the family. As it turns out, she went back to school and earned her master's in education. She taught in Philadelphia until her husband's job relocated them to Kansas City. We are happy she chose to work in USD 232.