De Soto's new eye doc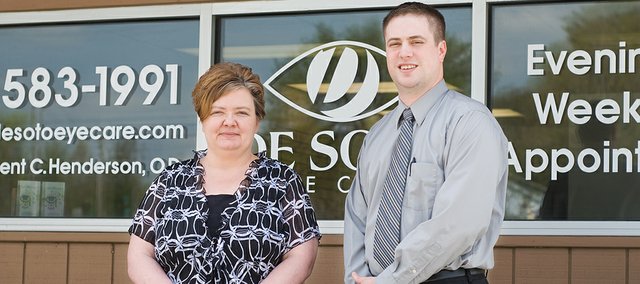 If you come down to the De Soto Eye Center and things look a little different, you don't need new glasses (well you might need new glasses) : there's a new optometrist in town.
Last week marked the opening of the new De Soto Eye Center.
Darin Nitschke, who operated the practice for many years, has moved on to devote more time to his practice in Bonner Springs.
Taking over for Nitschke are Trent Henderson and Jacob Letourneau, who also operate Ridgeview Eye Care in Olathe.
"It's important that the patients understand that this was a joint process between the three of us," Henderson said about the transition.
Henderson said he knew that some of Nitschke's patients will want to stay with him, but he wants to encourage people to come to the newly renovated office.
The floors have new carpet and the walls have a fresh coat of paint.
There is one main exam room and one room to fit contact lenses. There is enough place to store contact lens trials and a retail space for frames.
And there is room to grow.
There is enough space to add a lab, a preliminary exam room and a second exam room if needed.
"It's smaller, but it's certainly functional and I think it sets up quite nicely with the way we hope to do things," Henderson said.
Henderson said that the new eye center will be more than just a place to get eyeglasses or contact lenses.
He said they will also be able to treat people of all ages and manage eye diseases and conditions such as glaucoma, macular degeneration and pink eye. They will also be able to treat eye-related emergencies like scratched corneas or removing things from an eye like metal.
The new practice will also have new hours.
The eye center will be open on Tuesdays from 9 a.m. – 6 p.m., Wednesdays from 1 p.m. – 7 p.m., Fridays from 9 a.m. – 5 p.m. and 9 a.m. – 1 p.m. every other Saturday.
"I think we can meet the needs of the people here because we can see them more often than before," Henderson said about the new practice. "We want to be able to see more patients with the new hours. Some people never came before because the hours weren't convenient."
Henderson said that the new practice might get off to a bumpy start, but he thinks thing will smooth over once people see that they will take good care of them.