Rotary's sunflower sales to help combat polio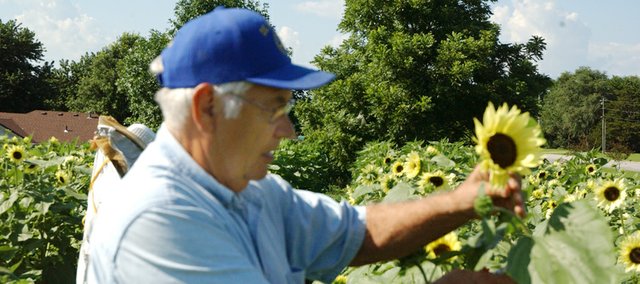 The De Soto Rotary Club needs your help combating polio.
The club has started selling sunflower seed packets as a fundrasier for the Rotary International's fight against polio.
Each packet of seeds cost $5 of which $4.70 goes to the Rotary Foundation.
"Rotary International had such a positive record in combating polio that the Bill and Melinda Gates Foundations have them a matching grant of $200,000," Darrel Zimmerman said.
He said over the years polio has disappeared. The Rotary International Web site states that the disease is about 99 percent eradicated in the world, but the last one percent will be difficult to eradicate because of "geographical isolation, worker fatigue, armed conflict, and cultural barriers."
Zimmerman said there is also a risk of the disease coming back if it isn't completely eliminated.
"With the rapid mobility of the worlds we can transfer that virus back into the population again," he said.
Last year's sunflower sales raised more than $4,000 for the foundation. This year Darrel hopes to do as well if not better.
Sunflower seeds can be purchased from Zimmerman at Zimmerman's Kill Creek Farm, 9210 Kill Creek Rd., Lori Murdock at Cedar Creek Pharmacy, 8960 Commerce Dr., or City Hall, 32905 W. 84th St.
Zimmerman said if the sunflowers are planted by May 1 you'll get blooms by July 1.
Donations to Rotary Foundation can be made here.
More like this story