Starside kicks-off community garden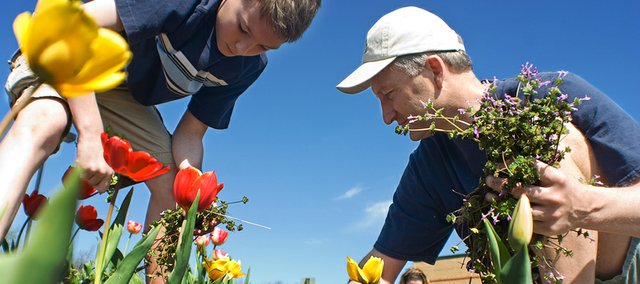 Starside Elementary School is known for its environmentally friendly initiatives that have developed green-minded students. And with the school's new community garden, they'll have the thumbs to match.
On Saturday, more than 20 students, teachers and community members gathered in front of the school to begin an organic community garden.
"All of the kids were really excited about it," Chelsea Johnson, first grade teacher, said. "They all want to be a part of it."
Saturday morning's goal was to get the six lasagna gardens ready for the assortment of vegetables that were going to be planted. Lasagna gardening is a no-dig, no-till organic gardening method that results in rich, fluffy soil with very little work Paula Henderson, school counselor, said.
The layers included newspaper, barn litter (manure), compost, peat moss, yard clippings and ash in varying amounts.

Inside the six beds, the volunteers planted, or will plant, onions, green onions, radishes, peas, potatoes, asparagus, broccoli, spinach, peppers and jalapeños. Once these vegetables are picked, they will be donated to the Multi-Service Center.
Henderson said the school's Earth Keepers, a group that meets after school on Thursday's, will mainly be responsible for the garden's care.
"These kids are so excited," Henderson said. "If you ask these kids who wants to go out to the library and they all do."
She said some of the regular maintenance for the kids will be pulling weeds and watering if necessary.
Another amenity of the new garden will be the new sunflower learning center. The center will be a small classroom next to the garden where the walls will be made out of 10-foot tall sunflowers.
Cate Weese and her dad Jason Weese helped make the classroom Saturday.
"I think it will be pretty cool," she said.