Mize teacher surprised by district's honor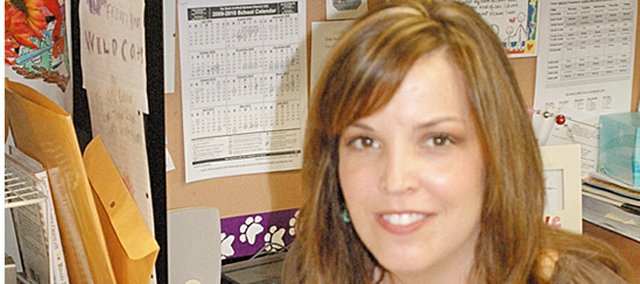 Pam Hargrove called an emergency meeting for Mize Elementary teachers just before school began a month ago.
"When a principal calls an emergency meeting eight minutes before school begins, it's usually not for a good reason," said Holly Schreiber, fourth-grade teacher.
However, it was a good reason — a very good reason, especially for Schreiber.
Hargrove, along with superintendent Ron Wimmer, announced that Schreiber had been named De Soto USD 232 Elementary Teacher of the Year.
Each year, the district gives an elementary and a secondary Teacher of the Year award for excellence in the classroom. Recipients go on to compete at the regional level, some have even made it to the national Teacher of the Year competition.
Schreiber said she was shocked and honored by the announcement.

"I had just entered the building from meeting with my Youth Friend," she said. "Pam got on the intercom that everybody was to report to the front of the building for an emergency meeting."
Teaching wasn't always Schreiber's passion, but she always knew she wanted to help people in some capacity.
"I actually started out as a pre-med major," she said. "The science classes seemed to not agree with me, so I had to change directions and find another way that I could help people. I had an outstanding algebra teacher in seventh grade that I admired and had always wanted to be like, so I decided to enter education."
Schreiber attended Kansas State University as an undergraduate, then obtained her master's degree from Baker University.
Before coming to Mize in 2007, Schreiber taught fifth grade at Rose Hill Elementary for four years, then moved on to teach third and fourth grades in Leavenworth for five years.
Schreiber calls her classroom a place of celebration.
"I believe heavily in teaching the kids how to set goals and how to meet those goals," she said. "We reflect and celebrate when our goals have been achieved. My teaching style is one of mutual respect and admiration."
She believes that children can teach adults just as much as adults teach children.
"My teaching style reflects that," she said. "You won't see me lecturing, but you will see me questioning, listening and probing deeper."
While Schreiber hasn't taught other levels of education, she's happy sticking with elementary students.
"Children have an innocence about them that is not found anywhere else," she said. "It's nice to be able to come to work and to have their view of the world surround me instead of the cynical view that most adults have.  I have considered other grades, and a lot of people have told me that I should teach middle school. I think I'll just stick to elementary kids though."
For now, Schreiber is enjoying her recognition as Elementary Teacher of the Year.
"I'm honored that De Soto recognizes me as one of its outstanding teachers," she said. "That's a pretty indescribable feat considering the teachers that teach in this district.  I teach with many outstanding colleagues and am still humbled."