14 honored at character assembly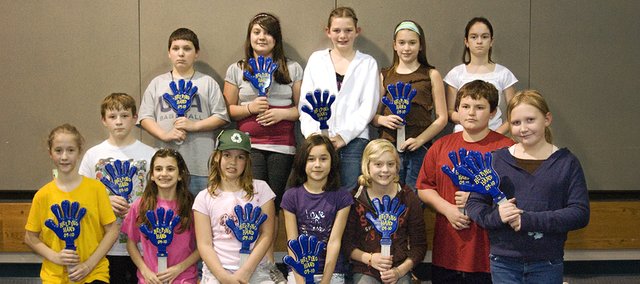 There are 14 more reasons why the students at Starside Elementary School should be proud of.
On Tuesday, during the school's character rally assembly, 14 students were honored for completing the 50-hour community service requirement for the Presidential Student Service Challenge.
Cameron Pflaum, Karen Marquez, Julia Johnson, Gabrielle Mallozzi, Brenna Zimmerman, Katie Hinds, Sean Pilger, Brittany Robins, Josie Bedford, Cynthia Amparan, Rebecca Clancy, Paden Bedford, Jessica Hopkins. Honored and Nick Irons were each given a plastic hand clapper with the message "helping hand" written on it and recognition from their fellow classmates.
Paula Henderson, the school's counselor, said students have acted as buddies to kindergartners and helped bag food for Haitians to earn their 50 hours.
She said students have until May 1 to complete their community service hours.
The school is looking to get 24 students to complete their hours to get presidential recognition. So far there are 18 kids who have completed the requirements.
Henderson asks that kids not wait until the end of the month to bring in all of their hours. She said notes describing the activity and how many hours were spent doing it are required for it to count and paid help or helping around the house will not count.
More like this story