Local 4-H'ers tour Kentucky horse country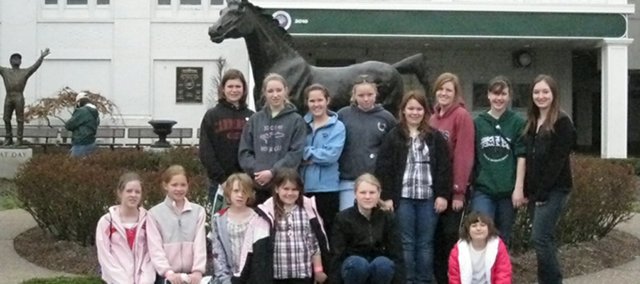 This Spring Break, 19 members of the Johnson County Horse Club took a trip to Kentucky to attend the Youth Equestrian Festival in Lexington, Ky. The members, who are 7 to 17-years-old worked all year at club fund raising events to finance the four day charter bus tour. The focus of the trip was to learn about equine related topics through horse farm tours and by attending several different horse related events.
The youth began their trip with a tour of Keeneland Race Track where the movie "Dreamer" was filmed. Keeneland is home to both turf and track horse racing. Following Keeneland, the kids visited, Old Friends race horse retirement center. The club adopted a famous race horse, Awad, by donating money for the retired champion's care.
Club members enjoyed an educational tour of Three Chimneys thoroughbred breeding farm, a stop at Donamire Stables and a tour of Deer Haven Haflinger farm. Members were treated to an exhibition of dressage at Deer Haven then were able to watch an actual competition involving Deer Haven horses the next day at the Kentucky Horse Park.
The club visited the North American Racing Academy, world famous jockey, Chris McCarron's, jockey training school. McCarron is known for his victory ride on Kentucky Derby Winner, Ali Sheba, and his feature in the movie 'Seabiscuit.' McCarron himself conducted the tour for the group then posed for pictures following.
Another day was spent at the Kentucky Horse Park which will be home to the 2010 World Equestrian Games. Club members enjoyed a full day exhibition of Dressage, Reining, Harness Driving, Vaulting and Jumping in the new indoor arena recently constructed in the park. The Johnson County Horse Club members were photographed by Young Rider magazine for the summer issue featuring the Youth Festival.
No trip to Kentucky horse country would be complete without a visit to Churchill Downs. On the way home the club was fortunate to take a guided tour of the historic home of the Kentucky Derby in Louisville, Kentucky. It was an amazing equine educational trip and the club had a fantastic time.