Easter roundup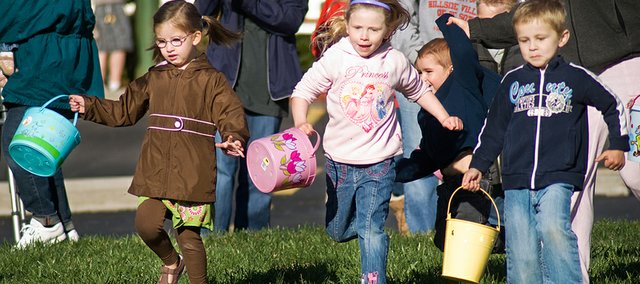 Photo Gallery
Hillside Village Easter egg hunt
Hillside Village played host to an Easter egg hunt Saturday morning. While the kids were collecting their pastel treasures, parents were able to stop by many craft booths that were available.
Looking to do something this Easter weekend? Well look no further, there are plenty of events coming to the city.
Saturday
Easter egg hunts begin at 9 a.m. at Hillside Village, 33600 W. 85th St.
Besides the egg hunt, the folks over at Hillside will provide an entire morning of fun family entertainment. Besides the eggs and inflatable bounce house, there will be food and other vendors.
The De Soto Baptist Church will also be having an Easter egg hunt at 10 a.m. at the church, 8655 Church St. Volunteers will be needed at 9 a.m. to hide the eggs.
Sunday
The Baptist church and the Methodist church will have early and regular Easter services.
The Baptist Church will be having its early service at 8 a.m., Sunday, immediately followed by a breakfast after the service. Regular services will begin after the breakfast at 11 a.m.
The De Soto Methodist Church will begin its early services at 7:30 a.m. The service will be immediately followed by a breakfast and an Easter egg hunt at 9:15 a.m. The regular service will begin at 10 a.m.