Runners step up at Rim Rock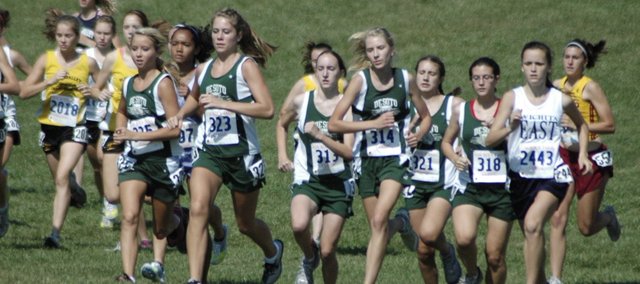 Despite having runners out with illnesses and other commitments, the De Soto cross country team stepped up last week at the Rim Rock Classic in Lawrence.
De Soto coach Chris McAfee said Rim Rock was one of the most exciting courses De Soto races on all season.
On the boys' side, Diego Sanchez was out of the lineup attending a church confirmation camp.
"God gave him that talent," McAfee said. "So we didn't want to mess with that."
The boys placed 16th in an extremely challenging field within the toughest division. McAfee only ran six boys, and had to have a few move up from the junior varsity.
"Those guys did really well and stepped up," he said. "It wasn't our best, but they did a nice job, and we know we can still keep working."
Austin Hinchey led De Soto, finishing 42nd with a time of 17:11, Angel Vasquez finished 66th and Ry Patton finished 121st.
The girls team was missing two of its runners Lacey Erickson and Carly Stanley. Stanley was out of town over the weekend and Erickson is still battling an injury.
"We actually ran Lacey, but we pulled her three quarters of the way through," McAfee said. "We were dead set on having her run, but when she kind of got into, she felt pain. We weren't sure if it was pain or tightness so we pulled her out."
McAfee said while the team didn't place high as he would have liked, he saw what he wanted to see out of the meet in that his usual No.'s 5, 6, and 7 girls ran well in spots 4 through 6.
"That was definitely a bright spot," he said. "Maggie Oberle and Jordan Kline and Sarah Churchwell stepped up. That makes me feel really good about the end of the season. It allowed us to start looking at how they compare against other 4A teams, and we matched up really well with Wamego and Topeka-Hayden. I was really pleased with how those three performed."
Beth Reichenberger finished 49th with a time of 17:27, Ellie Sheridan finished three spots later, Oberle finished 104th at 18:22, Kline 114th at 18:32 and Churchwell 156th at 19:23.
Next up for De Soto is Saturday's Kansas City Metro Championships at Raymore-Peculiar High School. McAfee said there would be about 40 teams competing.
"We're looking forward to it," he said. "The course is nice, flat, and fast. So guys and girls have a chance to run well."