Law career fodder for author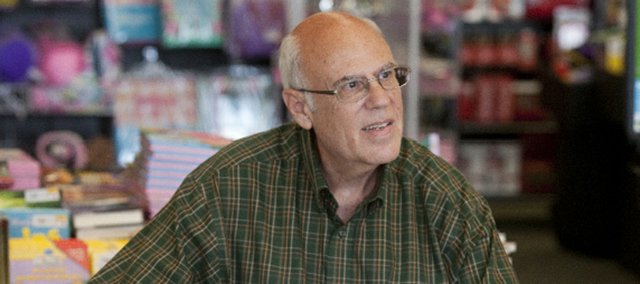 At one time, Kent Weatherby was torn between becoming a man of letters or a man of law.
"I always had as much interest in literature writing and reading, but the law was a nice way to make a living," the Shawnee resident said. "I'm not sure you can make a living writing books unless you're Dan Brown or Stephen King."
But it turns out that 40 years in the legal profession provided plenty of fodder for Weatherby's budding writing career, and now he has published his first book, "The Frenchman Ate the Fresh Bread First."
Weatherby said his travels and experiences have helped form a strong basis for his writing.
"That's one of the nice things about practicing law … you travel all over the world, so you meet a lot of people in a lot of places and see a lot of things," he said. "There are places you've been that you write about."
Weatherby served in the Army during Vietnam War as investigating officer in a war crimes investigating team. He began his legal career with the Kansas Power and Light Company, now known as Westar Energy, working in Kansas City and Topeka while living in Tonganoxie. He also spent two years working for the U.S. Justice Department in the Trust Territory of the Pacific Islands. It was a time period that would inspire his writing, especially "The Frenchman."
"It was a fascinating time; lots of violence, lots of political intrigue, lots of allegations that half of us were involved in spying, which was untrue, but they wanted to believe it," he said. "All of these intrigues then adapted into the story."
A Frenchman who sailed onto the island where Weatherby lived and then disappeared, his boat later found abandoned, was the inspiration for "The Frenchman." The book is a fictionalized account of the incident, examining the story behind his disappearance.
"The places that are in the book are real places," Weatherby said. "The people are fictionalized; the events, some of them loosely really happened."
Not long after largely retiring from the legal profession, Weatherby decided to revisit his love of literature by attending the University of Iowa Writers Workshop, a creative writing degree program.
"I began working there in the summers trying to develop the craft," he said.
He worked on books based on two other cases from his time in Micronesia, rewriting the first one twice before turning to "The Frenchman." When it was complete, he decided to try to get it published.
Weatherby got online to check into options for publishing, seeking companies that would take manuscripts from first-time authors. Not interested in self-publishing, he eschewed the so-called "vanity publishers" and eventually worked out a deal with Tate Publishing in Oklahoma City.
Now he has sent them his second book, which focuses on the biblical story of Lazarus, and will begin the editing process in November. He also is working on a third book, a murder-mystery set in the Kansas City area, with the working title "Death in the Rearview Mirror."
He acknowledges the three books are completely different writing styles.
"I don't know what genre I want to write in; I'm trying to find out," he said.
But Weatherby notes he is largely inspired by author, playwright and literary critic Graham Greene.
"Just the breadth of material he produced, when you look at that … he didn't tie himself down to always writing the same thing," Weatherby said.
For now, he finds himself promoting "The Frenchman," with a recent book-signing at Hastings in Lawrence, a planned signing Oct. 17 at the Oak Park Mall Barnes & Noble and a possible signing at Shawnee's Borders Express. At the urging of his publisher, Weatherby is even writing a blog about his experiences as a new author.
"I don't know that anyone reads it, but I write it," he joked.
And with a lifetime of experience to draw upon, Weatherby plans to further indulge in his love of writing. He hopes to finish at least one of the other two novels he started based on cases in Micronesia, and he is toying with the idea of making his second published book a trilogy.
As when he first considered a career in literature, he doesn't expect to make much of a living as an author.
"But you know, at those Iowa workshops, they made the comment that you don't really write with the idea that you're going to make a lot of money," he said. "You write because you enjoy the process, you enjoy the storytelling. And that really is the case."
Weatherby's novel is available to order online through Amazon, Barnes & Noble, Target and Hastings.