DHS

students create keyboard compositions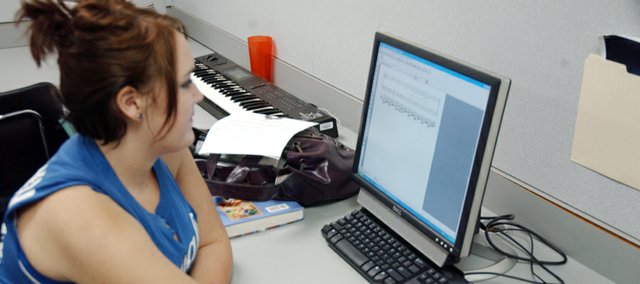 As Laura Darter's musical composition finished playing on a computer, fellow De Soto High School sophomore Gabriela Beceria broke into applause.
"I liked it," Gabriela said of the piece Laura composed as an assignment in the music and technology class they both take at De Soto High School. "And we're friends."
Laura, a flutist in the high school band, said she, too, liked the work featuring a flute with a piano background.
"It's very flowing," she said. "It works well with the flute and piano together. I play the flute. It's what I like to listen to."
Laura composition was an assignment in the class offered at the high school. To create the work, she — and her seven classmates — learned the software program Finale.
Dan Freeman, DHS band director and teacher of the class, said the days of working out compositions on the piano or guitar note by note are mostly gone. Musicians now use software programs like Finale, as he does in his duties as band director.
"It's one of two programs active composers use today," he said.
The class is open to all students and draws musical neophytes and those active in the school's music departments.
Freeman said he starts the class with a unit on scales, intervals and the "nuts and bolts" of music. Once the students were versed or refreshed in that, they start working with Finale on their original compositions or arrangements of existing works.
"This class actually taught me to read music," said senior Lacey West.
For her composition, Lacey re-arranged "Jolly Old St. Nicholas" with a background drumbeat.
"I think I could do more with it, but I like it," she said. "I'm trying to do something with 'God Bless You Merry Gentlemen.'"
Freeman, who is teaching two sections of the class this semester, said some students get into exploring the program's capabilities. He played a piece by Deriek Smith, one of 15 students in the class' other section.
"He really used the program," Freeman said. "It has an introduction, a B section, a repetition of the introduction, a C section and another repetition. It's pretty complicated.
"This is someone who never composed anything before and two weeks ago had never used the program. It's pretty impressive."
With the unit on composition wrapping up, the students will now start learning how to handle microphones and the basics of sound recording, Freeman said. They will also studying "Foley" sound, named for one of the pioneers in movie sound special effects Jack Foley, which duplicates sounds from a horse clopping down the street to clothing rustling.
With the aid of a computer editing program they will also learn, the students will create an old-time radio program for their final project in the semester-long class, Freeman said.
He knows the ends and outs of the Finale program he uses regularly, Freeman said. That is not the case with some of the editing programs the class will use later this semester.
From experience, he knows he'll be surprised by the students' projects and what they coax from the software.
"It's a challenge," Freeman said. "The kids get in there and get really into a program. They get beyond what I know.
"It's really cool that they do that, but it's a challenge to me because I don't have any answers for them when they come to me with a question. I just have to say, 'Let's try to figure this out together.'"