Welcome additions: De Soto, Shawnee Mission school districts enrollments increase
Districts report increased enrollment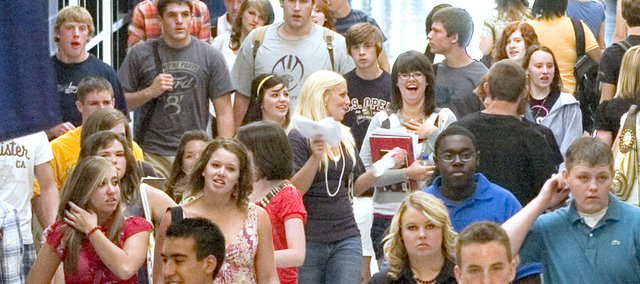 Official enrollment counts for Shawnee Mission USD 512 and De Soto USD 232 proved advantageous, with each showing increased enrollment for the 2009-2010 school year.
The Shawnee Mission district increased its total headcount by 28, for a total of 27,799 students compared to 27,771 during the 2008-2009 school year.
The De Soto district increased its headcount by 107 students in pre-kindergarten to 12th grade to 6,533 students from the 2008-2009 count of 6,426 students.
The districts released the figures Tuesday morning based on counts taken Monday in schools. The numbers will be forwarded to the Kansas Department of Education, which will audit them and determine the amount of state aid the districts will receive, according to a formula developed by the Kansas Legislature.
Leigh Anne Neal, director of communications for Shawnee Mission's USD 512, said the increase came primarily in the elementary schools.
"We grew by 209 students at the elementary level," she said. "That was significant growth for us. We are pleased to see that in the elementary and hope they continue throughout their school careers."
Declines were recorded in both middle schools and high schools in the Shawnee Mission School district. Middle school enrollment dropped by 99 students, while high school enrollment decreased by 84 students.
De Soto's high school enrollment increased by 58 students, while middle school enrollment increased by 39 students. However, elementary school enrollment decreased by 11 students.
"Most of the change at any one grade occurred between the kindergarten class of 2008, which had 579 students, compared to this year's kindergarten class of only 497 students," Jack Deyoe, USD 232 director of facilities and planning, said in an e-mail. "While the district is still pleased that it is a "growing district" rather than a declining district, this year's growth numbers are the lowest in over a decade."
Shawnee Mission USD 512's full-time equivalent enrollment totaled 26,603 students, a growth of 24 over 2008-2009's FTE of 26,579, the district said.
"We actually projected an enrollment decline because over the past years we had seen a decline in enrollment," Neal said.
De Soto USD 232 increased FTE counts by 137 to 6,188 students, officials said.
Kindergarten students count for .5 in the FTE count for state aid purposes.
More like this story