USD

232 has smallest growth gain in decade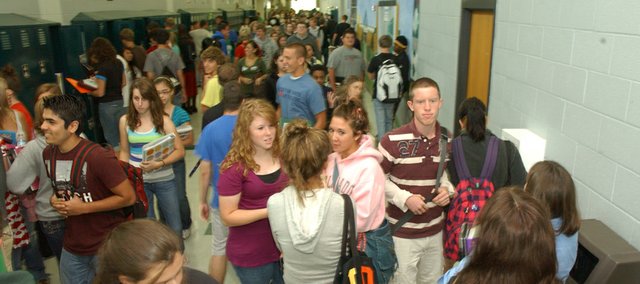 De Soto USD 232 is still growing but not at the rate witnessed during the building boom earlier this decade.
The De Soto district increased its headcount by 107 students in pre-kindergarten to 12th grade to 6,533 students from the 2008-2009 count of 6.426 students.
The full-time equivalent enrollment used to determine state aid, which counts kindergartners as half-time students, was 6,188 or 137 than last year.
The district released the figures Tuesday morning based on counts taken Monday in schools. The numbers will be forwarded to the Kansas Department of Education, which will audit them and determine the amount of state aid the districts will receive, according to a formula developed by the Kansas Legislature.
USD 232's high school enrollment increased by 58 students, while middle school enrollment increased by 39 students. However, elementary school enrollment decreased by 11 students.
"Most of the change at any one grade occurred between the kindergarten class of 2008, which had 579 students, compared to this year's kindergarten class of only 497 students," Jack Deyoe, USD 232 director of facilities and planning, said in an e-mail. "While the district is still pleased that it is a 'growing district' rather than a declining district, this year's growth numbers are the lowest in over a decade."
De Soto High School recorded an enrollment of 618 students.
Even before the official count Principal Dave Morford could notice the increased numbers.
"We are two teachers less than last year," he said. "And so we have noticed it in some of our classes. We've got some science classes especially full, both anatomy classes are over full capacity, and a couple of biology classes are pretty high. It's the same with foreign language. Same with communication arts English the numbers are reaching max in classrooms. We've got crowding in certain hallways. And those things which we are noticing will continue as long as the structure of the building stays the same," Morford said in early September.
De Soto USD 232 increased FTE counts by 137 to 6,188 students, officials said.
Kindergarten students count for .5 in the FTE count for state aid purposes.