Mom's dream a difference-maker
Daycare for developmentally disabled adults marks eight years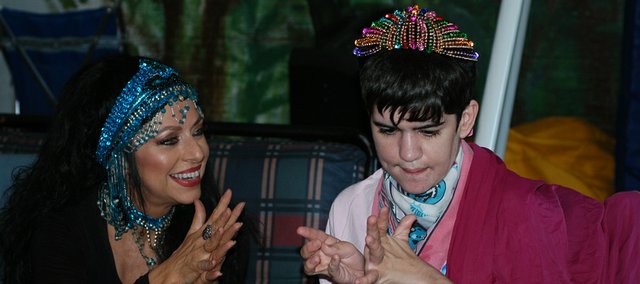 When her developmentally-disabled daughter graduated from Shawnee Mission USD 512's special education program at 21, Susan Jarsulic didn't like her options.
Her daughter, Jane, has Rett Syndrome, a neurodevelopmental disorder that meant she could not participate in many of the other day-programs for the disabled offered in the county. Parents of the other members of Jane's class agreed and banded together to create Dreams Work Inc., a not-for-profit day service for developmentally disabled adults.
Almost eight years later, Jarsulic finds herself working as the director of the organization she helped found. Though she faces the struggles of running a not-for-profit in the midst of a recession, the Shawnee resident said she was amazed to think that Dreams Work will soon celebrate its eighth anniversary and now serves up to 12 developmentally disabled adults.
"I'm very proud of that, because when I started this, I didn't know how it was going to go; I'd only sign a one-year lease on a building, because I wasn't sure if I'd still be in business the next year," she said. "But here we are, eight years later, and we're going great guns yet, so I think that's a good thing."
Building a service
Jarsulic was still working full-time for the Federal Aviation Administration in 1999 when Jane was graduating from school.
"I have to be honest, I didn't get too excited about what Jane would be doing after high school," she said.
Johnson County Developmental Supports provides programs that serve about 500 developmentally disabled adults, but the programs serve few lower-functioning adults, Jarsulic said. Most services are for higher-functioning people who can perform some sort of job.
"I knew in my heart that Jane was never going to have a job, that wasn't Jane's thing," Jarsulic said. "Social and recreational (activities) was what was going to make Jane's life the life that I think she wanted."
So the Jarsulics joined with several families whose children were in Jane's class, put together a board of directors and learned how to start a not-for-profit. They discovered they could qualify for Medicaid funding if they provided five hours of care daily, and they received some start-up funding through JCDS.
"It really was more a matter of 'we think we can do it better," Jarsulic said. "The programs that were available were not the type of programs we wanted for our kids, because they're not workshop material."
Dreams Work's first day was Dec. 3, 2001. Jarsulic served as president, and the organization had two employees and two clients or "persons served." They provided "on the go" daily activities before eventually renting a permanent space that allowed them to serve five people.
Today, Dreams Work has moved to a larger space in Lenexa, which allows it to serve up to 12 people, with eight employees. With the focus on social and recreational activities, those at the daycare enjoy activities like a weekly session with a music therapist.
The organization also owns its own wheelchair-accessible bus, and each person served gets out into the community at least twice a week, from a visit to the fire station to a tour of the Bass Pro Shops.
"To me, that's the most important thing about Dreams Work, is the fact that we're going out and going places and doing things," Jarsulic said. "You won't find that in the big programs."
Continuing to care
After retiring from her government job, Jarsulic came back on board as Dreams Work's director two months ago and has been learning first-hand the challenges of running the organization.
She says she gets frustrated there isn't more funding available for organizations like Dreams Work.
"The biggest problem is kids like these graduate out of special ed at 21 or 22, and because Kansas has a waiting list for adult day services, there are people who graduate from special ed and then they're sitting at home," she said. "So taxpayers have spent all this money, and families invested all this time in caring for these people and trying to make the best life possible, only for them to graduate from special ed and sit at home."
Organizations like Dreams Work are cost-effective, she said — putting a special-needs adult in a facility could cost about $125,000 per year, whereas day care programs like Dreams Work cost closer to $60,000 per year.
But JCDS receives all of the state funds allocated for Johnson County; no money is funneled out to other providers like Dreams Work. So though the organization has grown and is funded largely through Medicaid, keeping it afloat is tough.
Kansas Medicaid funds attendance at Dreams Work, but this funding barely covers the cost of the eight staff. Staffing accounts for about 70 percent of Dreams Work's budget expenditures, leaving just 30 percent to cover the rent, utilities and other costs.
"Yes, that seems pretty staff-heavy, but when it takes two people to lift a person, and everyone needs to be fed… that's a pretty heavy-duty level of care," Jarsulic said. "I think of the 11 we serve, there's maybe two or three who can tell you what their needs or wants are, and the rest are nonverbal."
Dreams Work can receive donations as a not-for-profit, but raising additional funds is not easy.
"I call, I ask my friends and family a lot, and people I worked with when I was working," Jarsulic said. "They are what provided the start up money to get us going. They were very generous to us at the time. But you hate to go to the same place all the time, asking over and over again."
Making a difference
Despite the challenges, Jarsulic is proud that Dreams Work and its founders were able to create a program to provide care and enrich the lives of the developmentally disabled.
"I think it's all about parents and people who care actually taking action versus sitting around waiting on somebody else to do something for them," Jarsulic said.
Having volunteered to raise funds for the International Rett Syndrome Foundation throughout her daughter's life, Jarsulic also takes comfort in the story of that foundation's founder, who started it from her kitchen table.
"It's just a huge, huge organization, so that was kind of incentive for me," Jarsulic said. "It said that a regular person can do something like this; you don't have to be a special person. Anyone can do it, you just have to have the stamina to do it."
Merriam resident Vickie Bottiger's daughter, Melissa, was one of the original members of Dreams Work day services, and she said having the program has been a huge benefit.
"Without something like this, you don't have many options; you have to stay home with your child, which is a huge financial burden," she said. "The worst-case scenario is institutionalizing them. This allows you to work during the day, and you get to keep your child at home. It really is a great program, and there are a lot of great people who work here."
Though still a smaller organization, Jarsulic said she sees that Dreams Work's impact is far-reaching.
"I didn't really set out to make a difference in a lot of people's lives," Jarsulic said. "But it turns out that I have."