Lineup change sparks Wildcats past Broncs 4-1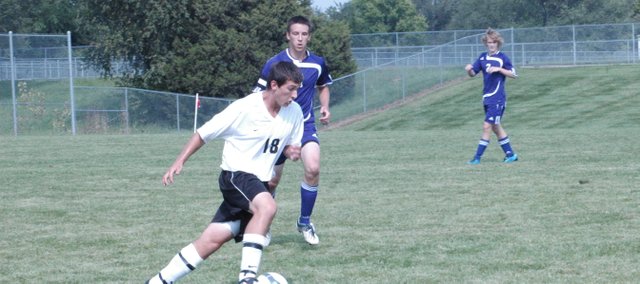 Even with boys out on red card suspensions and a juggled starting lineup, the De Soto soccer team took care of business Thursday at Spring Hill, winning easily, 4-1.
Sammy Seibolt and Andrew Konetzni were unable to compete after Seibolt was issued a late ejection against Free State and Konetzni picked up two yellow cards.
Regardless, the squad responded without them and dominated as junior Octavio Villa netted twice and Jordan Riffel and Alex Henning provided the other insurance goals.
In addition, coach Darren Erpelding played some players who have been acclimated to coming off the bench and rested some of his starters. Riffel, Villa and Henning were all used as substitutes for the Wildcats.
"I had them watch what some of the subs were doing, and what they weren't doing," Erpelding said. "They felt it out for the first ten minutes, then came in and made an immediate impact. In fact, they scored a goal about a minute and a half into their shift. They did a nice job of finding weaknesses in our opponents that their teammates were exposing."
Erpelding said goalkeeper Tyler Buffkin was solid between the pipes, despite conceding a goal that Buffkin knows was savable.
"Tyler was a little out of position, he misread where he was on the field," Erpelding said. "If he's where he normally would be, he easily makes the save. But overall, he played good."
Erpelding stressed the quality of one save, in particular, where Buffkin leapt backwards and punched an attempted chip shot just over the cross bar.
"It was a great save late in the game," he said. "He stepped back and laid out for it."
The Wildcats play Thursday at Baldwin.
"What I hear, it sounds like they had a couple chances to win," Erpelding said. "They're not used to winning so they're struggling to put games away. I'm hoping to get some reserves in."
Lineup changes and substitutions will be necessary to keep players fresh, seeing that Erpelding's squad plays three games in the next five days. De Soto will also play Saturday at Olathe Northwest before returning home to play K.C. Christian on Monday.