De Soto
VFW

memorial nearing completion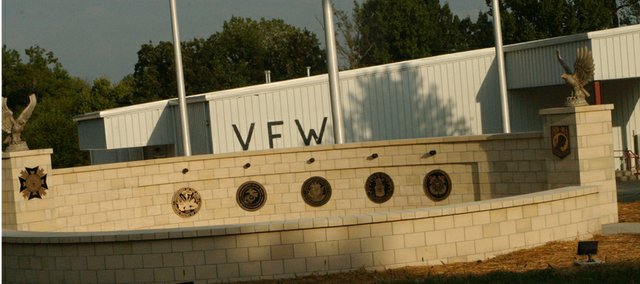 The memorial in front of De Soto VFW Post 6654 needs only a few finishing touches but there is still time for community members to be a part of it, De Soto VFW Post Commander Drew Culbertson said.
Still to be placed was bronze lettering on the front of the memorial identifying the post, Culbertson said. In addition, bricks are to be laid for the floor of the memorial.
Culbertson said that last bit of masonry work gave community members one last chance to be part of the memorial before its first informal dedication in November, although bricks can still be ordered later.
"If somebody wants their bricks to be one of the founding bricks, they need to get in," he said. "We going to have one last order."
Bricks purchased before that last order will be $40. The cost of bricks ordered at a later date will increase to $50.
Brick order applications can be picked up at the post or downloaded on the Internet at vfwpost6654.org, Culbertson said.
The post is planning a small dedication for the memorial Nov. 14, the Saturday after Veterans' Day, and a formal dedication for Memorial Day in May, Culbertson said.
The memorial, which sprang from a design post member Herb Wood drew in 2004, was a true community effort, Culbertson said. Among significant contributors were Monte Freeman, whose company provided the concrete work; Charlie James of Miller Paving, who provided the cast concrete stones; and Randy Cannan, who provided the customized flag poles.
Among the De Soto post members involved in the project, Culbertson singled out Archie Bedford for keeping him and the post on task.
"He's basically living, eating and breathing this project right now," Culbertson said. "He's been the glue that kept this project going."
A number of projects will further enhance the memorial, Culbertson said.
One already completed and only awaiting the memorial's finish is the placement of two benches at the site. Culbertson said the benches were the Eagle Scout project of Devon Ellison.
Culbertson said a project of Bob Burkhart will add the bell from the U.S.S. Neosho (AO-48), an oiler that saw service in the Pacific during World War II. That display could also become an Eagle Scout project, he said.
For his Eagle Scout project, Culbertson's son Andrew, 13, plans to complete a memorial to Stanley Adams, a Congressional Medal of Honor recipient born in De Soto in 1922.
Andrew said Adams — who joined the Army in Olathe and fought in World War II, Korea and Vietnam — earned the nation's highest military honor in 1951 after leading 13 men in a counter attack against a enemy flanking action. The hand-to-hand combat against 250 communist troops that followed left 50 enemy dead and was credited with saving Adams' battalion.
A master sergeant at the time of the engagement, Adams rose to the rank of lieutenant colonel, Andrew said. He died in 1999.
The memorial would have a 9-inch bas-relief bust of Adams and the official citation for his Congressional Medal of Honor, Andrew said.
Andrew said he would seek donations from De Soto businesses and those in Olathe, where Adams enlisted. Should that not raise enough money for the $2,000 bas relief bust, he would organize pancake feeds and other fundraisers, he said.
Andrew said he would like to finish the project by February. He would also like members of Adams' family to be at the dedication of the memorial and his project on Memorial Day, he said.
His father said he and his son have drawn a blank in their attempts gather information on Adams and his family in De Soto. Culbertson said Adams apparently graduated high school in Olathe.
Anyone wishing to share information on Adams should call the post at (913) 535-4700 or contact Andrew through the post Web site, Culbertson said.
More like this story