Cats fall to Cards, 27-6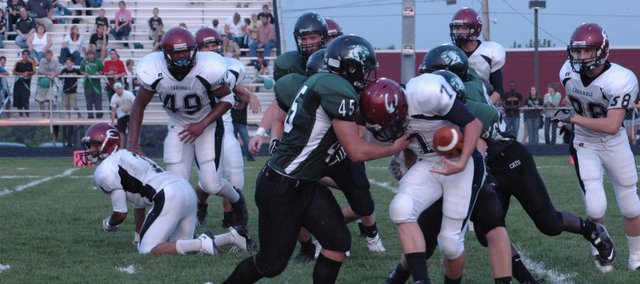 The De Soto Wildcats forced four Eudora turnovers, but penalties and miscues cost the Wildcats dearly in their 27-6 loss to Eudora Friday night at De Soto.
The De Soto defense held strong and forced three Eudora turnovers in the first half, and Logan Clark recovered a fumble and dashed 54-yards to the end zone to give De Soto a 6-0 lead. But that was all the points De Soto could muster against the Cardinals.
De Soto had 86 total yards in the first half and Eudora had just 113. But Eudora had the lead at 7-6 on a 34-yard touchdown pass in the second quarter.
Eudora scored on its opening drive of the third quarter and tacked on two more touchdowns in the fourth. De Soto tried to make a comeback late, but two drives ended in interceptions.
De Soto (0-2) rushed for 75 yards on 36 carries. Jeff Bowen led the rushing attack with six carries for 38 yards. De Soto completed just 6-of-20 passes for 52 yards on the night. For more on this story, read Thursday's De Soto Explorer.
1 2 3 4 F
Eudora 0 7 7 13 27
De Soto 0 6 0 0 6
Scoring Summary
D – Logan Clark 54-yard fumble return (2-point conversion failed) 7:43
E – Brian Katzfey 32-yard pass from Drew Noble (Matt Jump kick) 5:03
E – Hawley Montgomery fumble recovery in end zone (Jump kick) 8:22
E – Boomer Mays three-yard run (kick miss) 6:47
E – Evan Cleveland 40-yard run (Jump kick) 1:48.