Senior complex development agreement gets
OK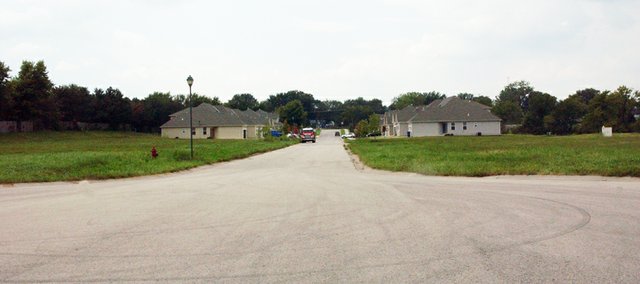 The De Soto City Council formally approved a development agreement with a developer of a proposed senior housing complex that it gave a preliminary nod of acceptance to last month.
Mike Glavin of Glavin Development requested reductions in a number of the city's development fees for a senior housing complex he proposed for a 25-acre site southeast of Lexington Trails Middle School on Lexington Avenue. Streets are already installed to the site and a number of triplexes built and occupied.
The development agreement would provide:
• A partial building permit and plan review waiver equaling $38,000. The city would collect an estimated $30,000 from the fees.
• A partial water connection fee waiver of $108,450.
• A partial sewer connection fee waiver of $165,300.
• A water and sewer connection fee waiver on three larger buildings equaling $58,995.
• A 20 percent 10-year water and sewer rate reduction.
A cost-benefit analysis completed by city consultant Kelsi Powell of Columbia Capital Management LLC indicated that revenue would allow the city to break even from the development after nine years and USD 232 would see a $341,000 benefit the first year of the project and a $2.7 million benefit from its first 10 years.
The city did, however, place a condition in the agreement to ensure it would receive the property tax from the $25 million complex.
De Soto City Administrator Pat Guilfoyle subsequently learned from the Kansas League of Municipalities that many such senior complexes were sold to non-profit organizations, which would eliminate the property tax benefit.
To protect itself from such an eventuality, the development agreement requires any non-profit purchasing the site to pay the city payment in lieu of taxes equal to property tax owed for the complex's first 10 years.
The agreement approved also required a non-profit make payment in lieu of taxes equal to 50 percent of property taxes owed beyond the 10-year window. Although his attorney indicated that was acceptable, the city had not heard from Glavin about that condition.
The development agreement was approved 4-1, with Councilman Mike Drennon voting no because of his concern De Soto residents would pick up the cost of the reduced water fees. He did say overall he thought the development would be good for De Soto.
As a result of a lawsuit settlement of more than a decade ago with the Brady Family Trust, the property is already zoned for multi-family residential. The trust had the property platted for a planned apartment complex, which remains applicable to the proposed senior development. City engineer Mike Brungardt said Glavin would need approval of a site plan and, potentially, a re-plat for some of the proposed triplexes.
A development sketch Glavin provided the city showed a memory care unit for seniors with early early stage Alzheimer's for 30 to 36 units, an assisted living building with 40 units, 60 independent living units and 18 triplexes.
Glavin told The Explorer last month financing was in place and that he wanted to start construction in November. The complex would be finished by September 2010, he said.
More like this story