New venue gets mixed reviews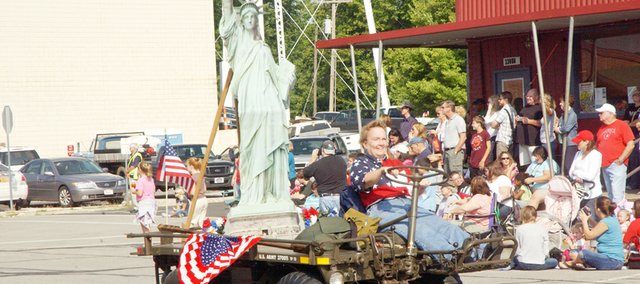 Assessment of the De Soto Days' change of venue was much like the weather during the three-day festival — cloudy.
Rain threatened throughout the festival, which moved this year from Miller Park to Riverfest Park, but never actually materialized during the festival's schedule. Temperatures remained pleasant as they have been all summer.
John Evans, owner of the Evans Midland Empire Show Inc., said that had been the carnival's experience throughout the summer.
"It's never really rained when it shouldn't," he said.
Nonetheless, Evans said Thursday was very slow and was pinning his hopes on a big Saturday to match last year's festival.
"Too early to tell," he said Saturday afternoon.
Vendors at De Soto Days agreed the festival started slow and were hoping for a good Saturday.
Max Atwell, who returned to the festival with a lemon and lime aide stand with his wife, Star, said there was little business Thursday but that it picked up Friday. By mid-afternoon Saturday, he was hopeful of a good final day.
Atwell, vendor Ed Shanley of Edgerton and Evans said it would take awhile for the new location to catch on.
Mary Plummer, a veteran of 44 De Soto Days, was far more upbeat about the success of the festival and endorsed the Riverfest Park.
"I like it," she said. "There's much more room this year. There's room to spread out."
Plummer worked the De Soto United Methodist Church Women's booth, which sold bierocks and other treats again the year. Business was good, although the booth still had bierocks by at 2 p.m., long after they're generally out because the church women made more of the popular items this year, she said.
Also happy with the activity at their booth was the Masons, who were offering children's identification kits. They processed 12 kits the first two nights of De Soto Days and 17 before 1 p.m. Saturday. Duke Neeland said they probably would have been busier except that people didn't believe the service was free.
There was a good crowd for Saturday's downtown parade. Raheema Sampson, De Soto Days Festival Committee chairman, said she and parade organizers were pleased with the number of entrees in the parade and the number of floats.
More like this story