De Soto Days Parade grand marshall Guilfoyle putting down roots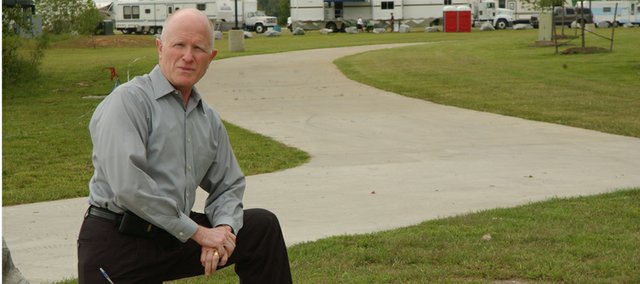 De Soto City Administrator Pat Guilfoyle and his wife, Sally, found what they wanted when they returned to Kansas 3 1/2 years ago from New Jersey.
"When we moved back to De Soto, it was with the intention of moving home again," the Fort Scott native said. "With our ties to Kansas University and Sally's first job as a teacher in De Soto, we really felt a kinship to this community. My family lives in this area. I grew up in a small town. That's what shaped my values."
It appears the community has accepted Guilfoyle, too. He will be the grand marshall of Saturday's De Soto Days Parade.
"I was humbled and flattered to be in the company of such stellar community contributors as Max Atwell, Sara Ritter and Jodi Hitchcock," Guilfoyle said of three recent grand marshals. "It's humbling to be considered with the same level of respect as they are."
De Soto Days Festival Committee Chairwoman Raheema Sampson said the committee sought to name someone to the position who was had contributed to the community.
Guilfoyle came to De Soto in 2006 from Piscataway, N.J., where he was the township administrator for three years. Before taking that job, Guilfoyle spent 16 years in the same position in Plainsboro, N.J. The two New Jersey jobs followed career stops in the Chicago and Omaha areas and Winter Park, Colo.
Guilfoyle set himself apart from the two city administrators who preceded him by immediately buying a home in the community and joining the De Soto Rotary Club.
"In my career, I've always lived where I worked, except Winter Park," he said. "And that was because the city council told me they didn't want to pay me like someone who could live in Winter Park.
"I've felt more committed to a community where I work if I live there and get involved. I've been an Optimist, member of the Lions Club and now I'm a Rotarian."
Linda Zindler, who was on the city council when Guilfoyle was hired and a fellow member of the De Soto Rotary Club, said he has proved to be a people person who gets people to work together to get things done.
"He's just a part of the community. I would say he integrated into the community from the start," she said. "He's an active member (of the Rotary). He helps with fundraisers. He has helped us with projects with the city like the benches at the pool and the trees we planted at Riverfest Park.
"He has also had the perception of that of a citizen, too. We've all appreciated that."
Guilfoyle also volunteers with U.S.D 232's Youth Friends Program, which matches youngsters with adult role models for weekly one-on-one time.
Angie Russell, who coordinates Youth Friends at Lexington Trails Middle School, said Guilfoyle's participation in the program has made a difference.
"He is meeting with the same student for the second year," Russell said. "He and the young man have quite a challenging game of chess when they meet. The student really enjoys Pat's company and the teachers who work with the student have really seen a improvement in his social skills because of Pat.
"Pat is very positive and enthusiastic. The student was a little shy at first, but I think Pat's attitude was contagious."
The program is a good experience for him, too, said Guilfoyle, who has two grown children.
"It helps me stay connected to kids," he said.
His return to Kansas has also allowed Guilfoyle to reconnect with Kansas University, where he earned his undergraduate degree and master's in public administration. Guilfoyle is the public administration program's first practitioner in residence. He helps screen graduate school candidates, provides advice the school's interns in the metropolitan area and gives classroom instruction from the real-world point of view of an acting administrator.
"The program did so much for me I wanted to give back to the school," Guilfoyle said.
His professional experience in De Soto has been very positive in large part because of the team attitude that exists among city staff and elected officials, Guilfoyle said.
"When I interviewed here, I think it was the mayor (Dave Anderson) who said, 'We don't necessarily agree all the time, but we can disagree without being disagreeable.' In my experience, that's been true.
"I've been in communities where there was a lot of rancor and negativism. That resulted in the inability to progress as a community."
He is thankful for the opportunities his career afforded to experience Chicago, the Colorado mountains and Eastern suburbs, Guilfoyle said. But he said he and his wife were now thankful for the chance to return home.
"This is where we've planted our roots," he said. "This is where we're going to stay."