FIve Questions: Evans Midland Empire Shows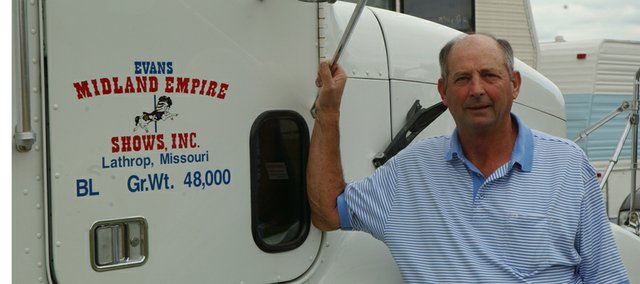 Q: The De Soto Days Festival is moving this year from Miller Park to Riverfest Park. What's your impressions of the new park as a venue for the carnival?
A: It's very nice. I think we can make it work.
I still have concerns if it rains the ground will be too soft. We didn't bring a couple of rides because of the ground.
Q: How many festivals, fairs or events to you make each year?
A: I haven't taken the time to count them. We're busy every weekend from the middle of April to the end of October.
We're from Plattsburg, Mo. All the communities we visit are in Kansas and Missouri.
We've been coming to De Soto for about 15 years. It's been a good festval for us.
  Q: Have you noticed any effects from the recession on your carnival?
A: No. We've had a better year this year than normal We've had a much better year than last year.
People are staying home and not traveling. They're looking for cheap entertainment and that's what we offer.
Q: In the past, you've offered special wristband nights that allows those who buy a wristband to ride all night on your rides. Are you offering that again this year?
A: We're having a wristband deal all three nights of the festival. From 6 to 10 p.m. Thursday, it's $18. From 6 to 10 Friday and Saturday evening, it's $20.
And from right after the parade to 2 p.m. Saturday, all rides will be $2 to $4.
Q: Does the carnival have anything new this year?
A: The teacup ride is new.
More like this story