Facility dog brightens
MCMS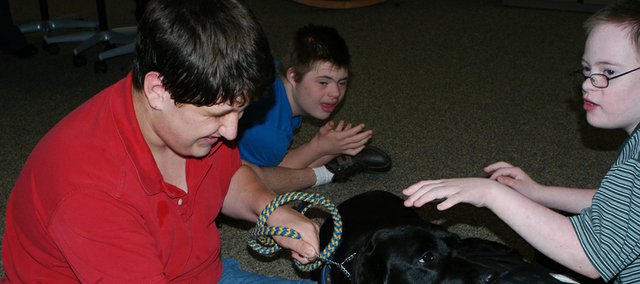 Mill Creek Middle School has gone to the dogs — well one dog.
This school year, Fala, a 2-year-old golden retriever/lab mix, is the building's newest addition.
Fala is the school's facility dog, a type of assistance dog matched with an able-bodied person and trained to work in environments, such as hospitals, nursing homes and schools, to assist people with disabilities.
Mill Creek counselor Polly Vader began the process to bring Fala to the school two years ago after hearing a presentation by Canine Companions for Independence. CCI is a nonprofit organization that breeds, trains and places assistance dogs with people with disabilities.
"I came home and told my husband," Vader said. "We decided to go ahead with the application."
Vader also decided to pay all expenses, including lodging and travel, out of pocket. Dogs from CCI are free to those accepted into the program but costs such as food and veterinarian bills are the responsibility of the facilitator.
In the fall of 2007, Vader kicked off the process by contacting the district about legal and insurance details. She also spoke to the school board about changing policy to allow animals into the building.
"After we knew it was OK with the district and school, I applied to get an application," she said.
After filling out a nine-page questionnaire, Vader received and filled out the 15-page application and waited.
In the spring of 2008, she was contacted for a one-hour phone interview with CCI officials, then was invited to a four-hour interview in Delaware, Ohio.
During the interview Vader told the officials how the dog would be immersed into the Mill Creek community. Vader also demonstrated why she would be a good facilitator for the animal.
In September 2008, Vader was notified she would be put on a waiting list for a facility dog, based on the need and availability.
In May 2009, Vader took unpaid leave to fly back to Delaware, Ohio, for a weeklong training program and to meet her new facility dog.
Vader learned how to work with Fala, who had been in training since she was 8 weeks old. In two years of training, Fala had to pass several tests, learning more than 50 commands.
The pair graduated from training after passing a final public access test – a trip to the local PetSmart.
After graduation, Fala was able to attend the last few days of the 2008-2009 school year before summer vacation. She met students she would be working with in the fall.
Now, Fala has become accustomed to her new home at Mill Creek and the students that spend their days there.
Each Monday, Tuesday and Thursday Fala joins the daily life skills class with special needs seventh-graders Matthew Walter and Jesse Bedford and eighth-grader Justin Wagner.
The boys spend the hour petting and brushing Fala's coat. One of the boys even brushes her teeth with meat-flavored toothpaste.
She works with students to help them develop daily life skills such as measuring her food and walking her, all while providing comfort and support to students.
Vader has helped teachers work Fala into classroom activities and lesson plans. The first week of school, a language arts class learned about point of view after Vader told students a story about Fala's journey to Mill Creek.
Vader said she has already seen an increase of traffic to her office.
"They come to see (Fala) but I get the chance to talk to them, they open up more," Vader said. "She is going to be an unconditional, nonjudgmental friend to everyone. That's the coolest thing ever. Students will benefit from that friendship."
Each night and weekend Fala returns to Vader's home, where she gets a break from her duties as a facility dog but still maintains boundaries.
"We practice commands for 15 minutes each day so that she doesn't forget them," Vader said.
Facility dogs typically stay on the job for seven to eight years before retiring. At that time, Fala will become Vader's pet. Until that time CCI retains ownership of Fala and checks up on her progress and work once a year.
"They will fly out once a year to observe our work and follow-up on commands," Vader said. "If I have questions about new commands they will coach me on how to do it with her."
More like this story