De Soto Days Parade to maintain past route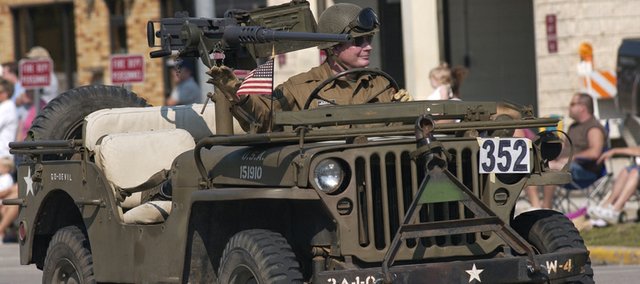 The route of the De Soto Days Festival Parade will remain unchanged despite the relocation of the festival from Miller Park to Riverfest Park.
Kristin Bothof, chairman of the parade, said the parade — the kickoff event of festival Saturday — would retain its traditional route from Lexington Trails Middle School down Penner Avenue and 83rd Street to Miller Park. As in the past, the goal is to have the parade reach downtown at 10 a.m.
And as in the past, parade entries will start staging at 8:30 a.m. at the south entrance at De Soto High School and leave the campus at 9:45 a.m.
As a safety precaution, parade entrants are banned from throwing candy from vehicles. Candy is to be distributed by someone walking with the entry.
The theme of this year's festival, "Imagine All the People," was selected in part because it was hoped it would encourage more float entries, Bothof said.
"We thought it would be pretty generic, so we hoped it would get lots more people involved," she said. "We would like to see a lot more floats and a lot more things."
Prize money for winning floats should also encourage participation. Prizes based on them are first, $300; second, $200; third, $100; and fourth, $50.
It's been slow so far. Bothof said as of Aug.19, only about 10 entries had pre-registered. But in her second year as chair of the parade, she knows that means little.
"It's pretty hectic the day of the parade," she said. "It's pretty laid out what you do before the parade."
An online entry form can be found at desotodays.com. For more information on the parade, email Bothof at kpbothof@fcbankonline.com or call her at (913) 548-6005.
More like this story