Artwalk to brighten De Soto Days Festival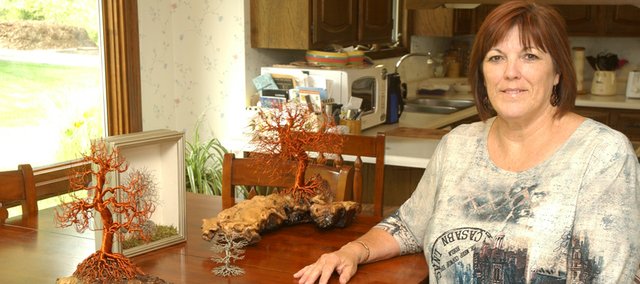 Growing up in Hutchinson, Kathy Horniman developed an appreciation for a mostly absent landscape feature.
"I've always loved trees," she said. "I grew up where it's pretty flat and treeless. We moved up here 10 1/2 years ago. I just love the trees and hills."
Horniman sculpts trees from thin cooper electrical wire. Her work will be available as part of the De Soto Art Council's Art Walk from 9 a.m. to 4 p.m. Saturday at the De Soto Days Festival.
The process involves cutting the wire to the proper length for the project she has in mind, Horniman said. She starts twisting and flexing the wire as she works and separating smaller bundles of wires for first the branches and then the roots.
"You twist the top of the tree to fit the type of tree you have in mind, or — if you're feeling brave — let your hands take you where they want to go. It can be ethereal or like that tree you always liked on the corner you drive by everyday."
One of the secrets is using the right wire, Horniman said. She uses a 13- to 24-gauge type cooper wire used in electric motors, which doesn't get the green oxidation patina of untreated cooper. Recently, she's added a cooper wire coated with a thin layer of tin, which gives it a silver appearance.
A friend introduced her to the process 29 years ago, Horniman said. She made sculptures for art shows and fairs for a few years before limiting herself to creations for friends as she "got busy with other things," including breeding and showing Dobermans with her husband, Mike.
It was her introduction to the local artists Carrie Dvorak, Rose Burgweger, Dianna Zwahlen and other that got her back into doing shows, Horniman said.
"I was just really lucky enough to meet up with those on the De Soto Arts Council," she said. "There are so many wonderful artist in De Soto. There's just wonderful people, and through them I was introduced to other artists."
Those new connections will keep Horniman busy this fall. She'll follow up her appearance at De Soto Days with a Sept. 13 show in Lawrence for Art in the Park and later this month the Un-Plaza Art Fair at the Unitarian Church in downtown Kansas City, Mo., and the Hidden Glen show in Olathe's Cedar Creek area. She is participating in the latter show with fellow members of the Olathe Visuals Arts, whom she meet through the De Soto Art Council, Horniman said.
"Fall is a busy time in the Kansas City area because I work 40 hours plus a week and have one dog I train and show," she said. "I can only do so much of this. I don't want to spread myself too thin."
Dvorak, the director of the Art Walk, said five artist will be featured at the event. In addition to local artists Horniman, Burgweger and herself, a teenage Missouri girl will have her work on display and for sale, she said.