All the way to state
Wildcats top defending state champ
K.C.

Christian 2-0 in regional final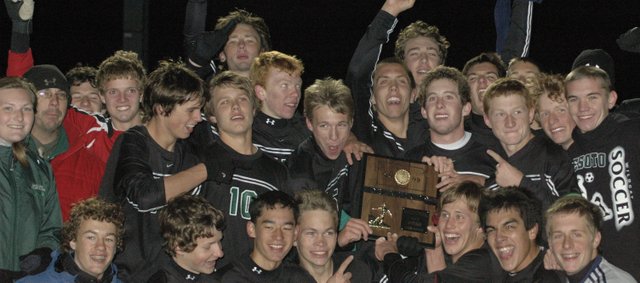 OVERLAND PARK – The De Soto soccer team beat the best. Now the only question is if the Wildcats will be the best.
De Soto knocked off defending class 4A -1A state champ K.C. Christian 2-0 in the regional final Friday at the Overland Park Soccer Complex to advance to Tuesday's state quarterfinals.
"These guys have worked their tails off," De Soto soccer coach Darren Erpelding said. "It couldn't happen to a better group of kids."
After a scoreless first half, De Soto had the wind at its back and controlled possession most of the final half. The Wildcats had several scoring opportunities in the first 20 minutes, but couldn't score.
But the Wildcats finally broke through with 11 minutes to go when forward Jordan Riffel outran the last defender and put up a shot near the goal. The ball bounced off the keeper's hands and landed in the back of the net.
Christian countered with two late drives into the box, but De Soto goalkeeper Tyler Buffkin swallowed up both shots. Brett Hevel then put the game away with a goal from distance with 1:04 to play.
"The guys have wanted this game for so long, and we were able to do it," Erpelding said. "We just kept coming at them and coming at them. We put them on their heels, and we were able to put balls away and win the game. It came down to heart, and we just wanted it more."
It was the first time in school history that De Soto has beaten K.C. Christian. The teams have met during the regular season the past two years, and K.C. Christian beat De Soto 1-0 in double overtime earlier this year.
"They're the giants," Erpelding said of K.C. Christian. "They've won state four out of the last eight years, and won 12 straight regional championships. And we finally knocked them off."
De Soto (11-7) will play in Tuesday's state quarterfinals against a team yet to be determined. But with Christian out of the way, De Soto is dreaming of a state title.
"Now we know we can do it," Erpelding said.
More like this story