Cats fall to Miege 29-15 in district championship match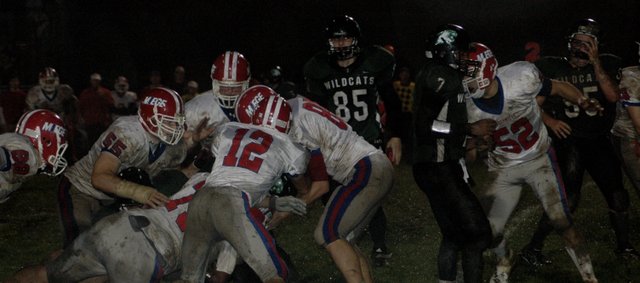 The De Soto Wildcats entered Thursday night's district title match against Bishop Miege playing its best football of the season.
But the Wildcats committed four turnovers and lost the field position battle, and Bishop Miege claimed the district championship with a 29-15 victory Thursday at De Soto.
The playing conditions were far from ideal, as the field was drenched with water and several players lost footing in the middle of the field. That helped Miege gain early field position.
"We probably didn't do some things that we needed to play the field position battle, and they executed and got on the board first," De Soto coach Tom Byers said. "And then with the elements. We knew that the elements were going to be a major factor, and it takes an awful lot away from what you can do. And it did take a lot away from both Miege and us offensively. But still you've got to find a way to execute and work through any difficulties that the weather brings."
Miege struck first in the contest, scoring on a Bobby Germinder three-yard run late in the first quarter. De Soto's defense then stiffened, and forced the Stags to punt on their next possession, but De Soto fumbled the snap at their own 14-yard line.
Miege, though, fumbled the ball right back to De Soto. But two plays later, De Soto fumbled the ball again at its own 10-yard line, and Miege's Justin McCay capped the short field with an eight-yard touchdown reception from Max Shortell. The Stags converted on the two-point conversion, and De Soto was in a 15-point hole midway through the second quarter.
But Jeff Bowen returned the ensuing kick 70 yards, and four plays later, Dylan Burford scored from 14-yards out to cut the lead to eight.
De Soto carried that momentum into the second half, and on the second play of the third quarter, Burford busted up the middle, then cut back left and sprinted down the sideline for a 54-yard touchdown. Quarterback Daniel Peterson then connected with Jon Hastings on a slant in the end zone on the two-point conversion, and De Soto drew even at 15.
"We said at halftime we were feeling really good about going, and we play to win," Byers said. "The kids come out and respond and bam we make it a 15-15 ballgame. But again they executed on some things, and field position in that last half, that was the difference in the ballgame."
After Burford's touchdown, the Wildcats struggled moving the ball, and another short field for Miege culminated in a McCay three-yard touchdown run late in the third.
The Wildcats then went to the air, but an interception gave Miege another short field, and Germinder finished the drive off with a three-yard touchdown run early in the fourth.
De Soto later drove to the Stags' 25-yard line, but another fumbled snap gave Miege the ball back, and the Stags ran out the clock.
"Our kids play hard, and that's all we ask for," Byers said. "And they gave themselves an opportunity to win some football games, and that's all we ask for. We just came up short tonight. That's a good Miege team. I'd love to battle them again."
De Soto (4-5) will play at 7 p.m. Tuesday at Eudora in the first round of the playoffs. Eudora beat Baldwin 47-0 Friday to claim its district title. Miege (7-2) will host Baldwin at 7 p.m. Tuesday.
"We'll get back and do what we've done all year and work on trying to improve from this week to next week," Byers said. "It's just going to be a short week, and we've got to put the best product that we can out there and try to find a way to win. We're anxious for it and looking forward to it also."
Score by quarters
1 2 3 4 F
Bishop Miege 7 8 7 7 29
De Soto 0 7 8 0 15
Scoring summary
B – Bobby Germinder 1-yard run (Max Zinser kick) 4:04.
B – McCay 8-yard pass from Max Shortell (conversion good) 6:15
D – Dylan Burford 14-yard run (Josh Pasley kick) 3:30
D – Burford 54-yard run (conversion good) 11:01.
B – McCay 3-yard run (Max Zinser kick) :24.
B – Germinder 1-yard run (Max Zinser kick) 8:45.
More like this story