Soccer rolls into regional tourney finals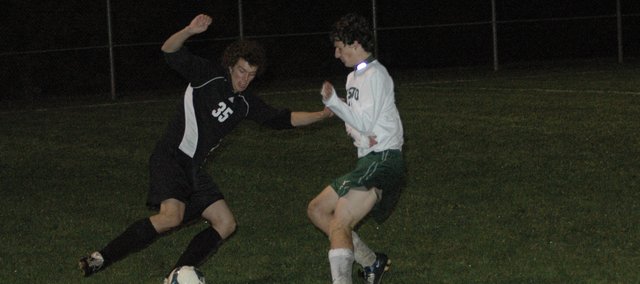 Darren Erpelding's team was business as usual Tuesday in the first round of regionals as the Wildcats hammered Immaculata 5-0.
Erpelding said the game went about as he expected, with the Wildcats dominating most of the contest.
"There weren't too many surprises tonight," he said. "We're the better team, so everything went about like we thought it would. I was hoping we might put a few more goals away, but it was a good performance."
Octavio Villa got the Wildcats on the board in the first half to open the game with a header goal from inside the box. De Soto took a slim 1-0 lead into halftime before an offensive explosion in the second half put the game out of reach.
After the break, Villa scored his second goal again off his head just three minutes in.
Alex Henning cracked the score sheet six minutes later as he knocked the ball to the back post from a near-impossible angle. The ball drifted over the Immaculata goalkeeper's outstretched hands as he was caught a bit too far off line.
Sophomore Parker Seaman tallied fourth for De Soto after senior Andrew Konetzni played a smart ball through the box for Seaman to hammer one in.
Senior captain Brett Hevel concluded the scoring for the Wildcats in the 74th minute on what was easily one of the classiest finishes of the contest. After an early ball whipped in from Jordan Riffel, Hevel controlled the ball at the back of the box, pushed the ball to his right foot and lofted his shot into the upper corner of the net, pushing the lead to 5-0.
With the victory, the Wildcats advance to the regional final against KC Christian at 5:30 Friday at the Overland Park Soccer Complex.
The two teams met earlier in the year and De Soto lost 1-0 in double overtime.
"We knew we would have to play them again sometime," Erpelding said. "So we might as well get them now. We think we can play with anybody in the state, so this is a good opportunity for us."