Methodist women make pantry a project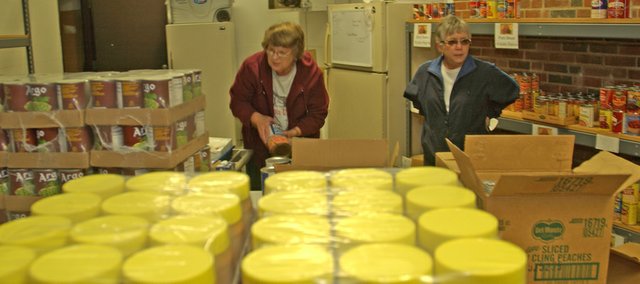 With a good deal of food on the shelves and boxes full of canned goods waiting to be put away, Monday was not a normal day at the De Soto Multi-Service Center food pantry.
The excess food was from the center's monthly U.S. Department of Agriculture commodities shipment for income eligible residents, which was delivered Friday.
That made for an upside-down day for Jan Vaughn and Rosie Inman, who are more used to dealing with a scarcity of food on their days at the pantry than an excess of it.
"People don't understand the need," Vaughn said. "There's been days there wasn't anything on the shelves."
The two woman unpacked the boxes of commodities food, placing items on shelves near food community groups and individuals donate. The donated food is distributed to anyone living in De Soto USD 232 in need and making an appointment at the center.
Vaughn and Inman are among the eight De Soto United Methodist Women who have volunteered at the food panty every Monday afternoon and Thursday morning since June, said Jodi Hitchcock, director of the De Soto Multi-Service Center.
"I asked them to take me on as a project," Hitchcock said from her office Monday. "Having them taking care of the food pantry, frees me to see those who need my help in here.
"I couldn't do it without them."
The United Methodist Women started working the pantry at a time when the recession has increased its demand. Vaughn, the wife of De Soto United Methodist Pastor Jerry Vaughn, said the experience has taught her how vulnerable the hard times have made everyone.
"It could be anyone," she said "You hear from people who lost everything. We had a gentleman who came in who lost his wife and was trying to raise his kids.
"We've had people come in for the first time who used to contribute to the food pantry. It's hard on them. We tell people like that, "When things get better for you, you can be on the giving end again."
The shelves benefit from regular donations from the De Soto United Methodist Church, De Soto Baptist Church and Holy Family Catholic Church in Eudora. But Vaughn and Inman said those critical donations were inadequate to fill the need.
"What our church provides wouldn't last a day," Inman said. "We really need the support of the whole community."
That support, Hitchcock said, could be in the form of food or cash donations.
Recently, when they found the shelves nearly bare on one of their volunteer days, Inman and Vaughn took advantage of cash Hitchcock had on hand to go shopping for $400 worth of groceries.
And the need is not limited to food. As they filled a shopping cart for one pantry visitor Monday, Vaughn was unable to fill the needs for larger size diapers.
"She wanted a size four or five," Vaughn said. "We don't have any that size. We have plenty of the smaller one-, two- and three-size diapers, but we never have enough of the larger sizes."
In addition to helping her focus on her other duties, the United Methodist Women have brought order to the pantry, Hitchcock said. They defrost the refrigerator and regularly clean the shelves and rotate the food like grocery stores do so older items don't remain on the shelves.
"There were swollen cans that needed to be thrown away,"
Vaughn said. "There were items dated from 10 years ago."
It can be hard work, and Inman and Vaughn said there were days the left tired. But they also leave with the good feeling they are acting on the instructions of versus 37 through 40 of Matthew 25, instructing Christians to act in behave of the less fortunate, Vaughn said, quoting from the concluding verse.
"I say unto you, Inasmuch as ye have done unto one of the least of these my brethren, ye have done unto me," she said. "I see it as sharing Christ's love with the world."
More like this story